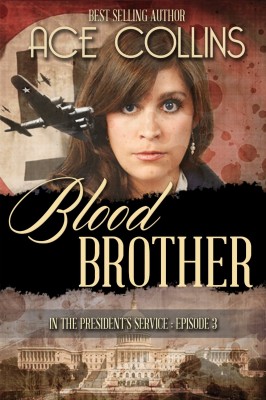 After an assassin's bullet stops Helen Meeker dead in tracks her friends must find the man who fired the shot. From the streets of Washington D.C. to the stockyards in Chicago with a side trip to the heart of Texas, danger and intrigue dog a secret government team as Helen hovers between life and death. Will an enemy's blood offer a second chance at life and the key to finding out what a mysterious tall man really wants? Old friends unite with new characters in this exciting episode of In The President's Service.
About the Book
In this third compelling episode of In the President's Service, Helen Meeker has been critically shot. Will she survive? Key players are called in on both sides of the war effort. Strategies, although not seemingly military, are laid, and executed. Which characters that we now know and love (Helen, Henry, i.e), or hate (Fister) will prevail or even make it out of this deadly "game," as some see it, alive? And the Germans: are they REALLY carrying on a kind of human experimentation on AMERICAN soil?!! Tons of action, suspense, and mystery! Keep it up, Ace! I can't wait for the NEXT installment! ~ Babbling Becky B, Amazon
Helen Meeker has been shot. Who wants her dead? The main suspect is in custody or so they believe? Helen held the answer to this question.
Enter 2 doctors, a lab FBI agent, a MIA agent, a secret service agent and an innocent college student and you have the makings of a secret team.
Thanks to a pint of Fister's "supercharged" blood, Helen makes a speedy and complete recovery. Now those bent on espionage want a prominent German citizen who now lives in the United States and helps with them with the war, brought back to Hitler. They will stop short at nothing to make this happen. Will the "secret" team be able to free the prisoners before the plane takes off? Or will the reader be flown to Germany for Ace Collin's fourth episode?
Great series set in a time of many unanswered questions and unsettled alliances. Eagerly awaiting Episode 4. ~ Calleigh, Amazon
In this episode of In The President's Service, Helen has been shot by Fister. He's fooled the authorities by letting them catch his twin brother. But only Helen has that information and she's near death.
Rebecca, the laboratory working FBI agent manages to get a container of Fister's "supercharged" blood to Helen in time, accelerating her healing . It's a good thing too, because those bent on espionage are proceeding with their plans. And there is still that mole in the White House who needs to be uncovered.
And to make matters worse, one of FDR's economic advisers is kidnapped by the Nazi agents.
I love the 1940s feel to this series. I mean, when was the last time you read that someone "parked his keister" on a chair? It is also interesting to read about the Nazi propaganda. They had rewritten the Christian faith to make the Germans the chosen race and the Jews the ones who killed Christ.
As was the case with the previous episodes, this one ends with Helen in an impossible situation. This is another exciting continuation to the series. ~ Joan N, Amazon
Other Books in "In The President's Service"