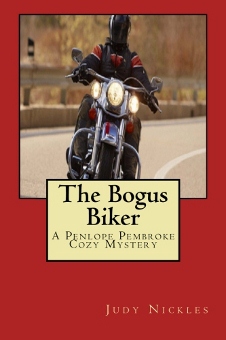 A police raid on the Sit-n-Swill where Penelope and her father are having a beer and a Reuben, a devastating fire at her ex-husband's historic home, and a game of cat-and-mouse with a biker who is anything but one, turns Penelope's life upside down.
About the Book
Penelope Corinne Louise Kelley Pembroke is doing just fine, thank you, running her B&B in the old Kelley family home, looking after her father Jake who thinks he's looking after her, and looking forward to the day when her son, Detective Sgt. Bradley Pembroke, will present her with grandchildren to spoil. Unfortunately, the girl he was dating fell prey to his father's wandering eye—the very reason Penelope divorced Travis Pembroke in the first place.
When two men check into the B&B with the flimsy excuse of not wanting to drive any further that night, Penelope can't help but wonder about all the hotels they passed on the interstate, but she gives them a room. Then she overhears something about a shipment at the Sit-n-Swill, the seedy-though-popular—and only—dive on the edge of Amaryllis, Arkansas, and her curiosity gets the best of her.
She and her father decide to check out what's going on at the Sit-n-Swill, but they pick the wrong night. First, a biker hits on Penelope, and next her son leads a raid on the place and is properly horrified to find his mother and grandfather there enjoying a beer and a Reuben.
Then the biker, whose cultured speech betrays him as anything but, turns up on Penelope's back doorstep with a minor head wound. Going into nurse mode—which she was before she took up inn keeping—Penelope patches him up and lets him spend the night in an empty guestroom.
That's only the beginning. A devastating fire at her ex-husband's historic plantation, two charred bodies in the cotton gin, a terrifying odyssey trying to stay one step ahead of the bad guys but not being really sure who they are—all of it changes Penelope's life forever. She's glad enough when she's finally back home with Abijah the cat and her best friend and mayor's wife, Mary Lynn Hargrove.
But then Tiny the Biker, aka Sam, shows up again and persuades her to take a moonlight ride—and this time she's not sure she'll get home again.
Other Books in "The Penelope Pembroke Cozy Mystery Series"