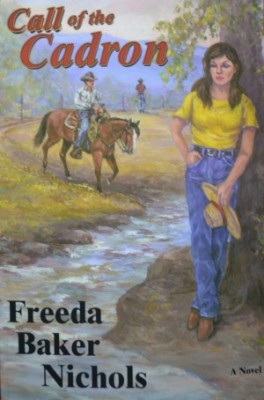 At mid-morning, the sun was already hot. She stepped over an empty beverage can and looked down at her reflection in a smooth pool of the creek. Her long, brown tresses fell beneath her straw hat. She pulled her hat a little lower, its wide brim shading her face. No reflection could ever show how much she hurt inside. Nothing could ease her frustration. Nothing. The accident on the night she graduated ended her grandma's life, paralyzed her dad, and left her mother extremely depressed. Jordan's three younger sisters needed support and someone had to run the farm, so she placed her job offer on hold. My mind's made up. I'll stay because they need me.
About the Book
Written by Freeda Baker Nichols and published by Nic Baker Books, this is the story of Jordan Diane Maxey who puts aside her dreams to run the family farm.
Following her college graduation in 1983, she experiences life at times so acutely painful she doubts her ability to solve problems besetting the family.  She relies upon her inner strength instilled in her by both parents.  Her close bond with her father enables her to keep faith in herself.
Pursued by two men vying for her hand in marriage, Jordan desperately searches her heart to know true love beyond a doubt.
Concerned for her rebellious teenage sister, Jordan meets the challenge and steps in to prevent Shelley's marriage to an unworthy man whose lifestyle threatens to involve her with use of and trafficking illegal drugs.
Later, facing an evil man who attacks the very heart of the family in a broad-daylight kidnapping of her little sister, Jordan remains true to herself in her sacrifice to meet the ransom.
This book is a Christian Romance, a 200 page work of fiction, set in Arkansas along a creek, that's called Cadron. It's easy to read, and some readers have said they can't put it down but must keep reading to find out what happens next.
It deals with teenage problems in a positive, loving way. The love and strength of a family is tested throughout the story and ends by the family willing to give up their farm, their livelihood for the return of their youngest child who's being held for ransom by a kidnapper.
Woven throughout from page two until the ending, Jordan experiences the excitement of being courted by two men, each in his own way, vowing to love her truly and forever.  Her heart is tested with her decision to choose as she finds strength to say goodbye to one of them.