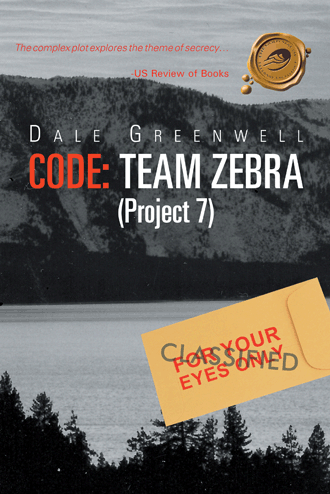 CODE: TEAM ZEBRA is about a small Top Secret organization funded by Congress under a fictitious research title Project 7. Only one senator is aware of Its existence and purpose: To subvert and destroy international drug cartels and their American judicial allies degrading American lives. The story focuses on the assassinations of an informant, his Zebra contact, the senator's son, and witnesses.
About the Book
Review:
Given Greenwell's extensive background in the classified security arena, it is no wonder he wrote such a compelling novel. From the opening chapter, he sets into motion the intrigue and clandestine operations that are occurring within our own United States. Most books of this genre have a setting in a foreign county, but this story puts the reader in the center of the inner sanctum of some of the highest ranking elected officials in our government. He carefully introduces a complex set of characters engaged in secret operations within our own country driven by the need of a rogue senator trying to make the world right outside of the current policies of written laws. He paints a picture of behind the door political funding kept out of sight by shroud manipulations to operate Team Zebra on a special project. He skillfully describes the settings from Jackson Hole, Lake Tahoe to Biloxi keeping the characters in focus on their mission. There is one operative that knows how to quash the rogue operations and assumes a special identity in "project 7." This kind of book is so realistic that it leaves the reader with the haunting thought "that it can happen in real life." Throughout the book the characters are real people involved in their own lives coping with their own feelings, needs and thoughts. The tone and tint of this book is just right given the recent United States government security disclosures. I totally recommend Dale Greenwell's Code: Team Zebra (project 7) as the ☆☆☆☆☆ book of 2014 as a must read. Have some time because you won't be able to put it down or stop turning the pages.
L Lee Parmeter Author "War Stories and Little White Lies." 9 January, 2014.