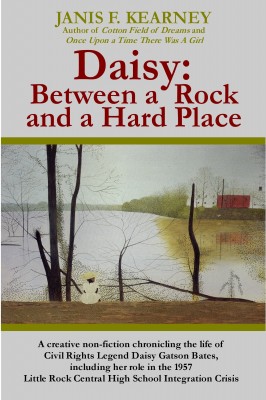 Don't like history but love literature? Daisy: Between a Rock and a Hard Place, is great history that reads like a great story. Hard to put down once you pick it up! An opportunity for a quick history lesson about Arkansas' Civil Rights Heroine Daisy Gatson Bates, and about Arkansas' role in a national struggle.
About the Book
Daisy: Between a Rock and a Hard Place
Janis F. Kearney; Writing our World Press, March 2013
Daisy Gatson Bates' life did not begin or end with the 1957 Integration Crisis. While that remarkable time in history would surely memorialize her name and impact the rest of her life; there were other episodes that would impact her life even more. The Huttig, Arkansas native was dealt a most complicated hand to play when she arrived here on November 11, 1914 – born in the company town of Huttig, Arkansas where segregation was legal and accepted, and blacks were relegated to second-class citizenship. Born to teenaged and unwed parents, Daisy would become an orphan within a year's time when her mother was murdered and her father left her at a friend's doorstep.
The miracle of Daisy Bates is her evolution from a beautiful, young woman filled with hate and bitterness, to the impassioned leader she would become. Her first and only love, the much older L.C. Bates, would become her husband and soul mate. Together they would make history – Arkansas history and National History. Daisy would become the voice and the face of the 1957 Central High Integration Crisis.
Author Janis F. Kearney recounts the leader's many friendships, relationships and associations that helps define who she was in the eyes of the world during that pivotal time in history – from Presidents Kennedy, Johnson and Clinton; First Lady Eleanor Roosevelt; the Reverend Martin Luther King, Jr.; Roy Wilson, NAACP President; Thurgood Marshall and Wiley Branton, NAACP attorneys, Maya Angelou and Jackie Robinson… and others.
Daisy Bates, a woman leader before her time.