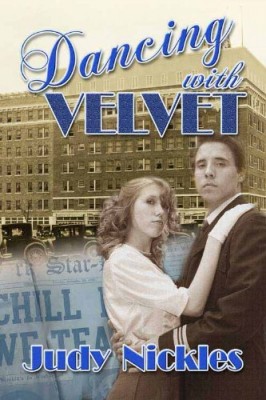 Celeste wonders if life will always be the same: going to work, coming home to keep house for her widowed father who ignores her. Her single ray of hope is the recurring dream of a blue velvet curtain and a faceless lover who beckons her beyond it. A dance in the arms of a stranger is like a miracle, but he disappears from her life. Soon after Pearl Harbor, he returns to town in A wartime separation threatens their deepening relationship. Then Celeste realizes that what she doesn't know about the man of her dreams may become her worst nightmare.
About the Book
Celeste Riley wonders if life will always be the same—going to work…going home…going nowhere. With American emerging from the Great Depression, she's grateful for a good job, friends, and the warm, loving family into which her older sister Coralee has married. She's lonely, too, still living at home and keeping house for a weekend alcoholic father who rarely notices her. But she has her dreams—literal dreams of a blue velvet curtain cloaking the identity of the man meant just for her.
The man on whose head she accidentally drops an apple while leaning out the window on her lunch hour is by no stretch of the imagination her dreamboat. When she runs into him twice more, she gives him the cold shoulder. But the third time she gives him a chance. Lunch and a walk around town after church on Sunday is just the beginning.
On impulse she puts a blue velvet dress on layaway at a local department store and wears it to meet Kent at the Roof Garden of a local hotel. They dance the night away, and Celeste looks forward to the next occasion, but Kent disappears with only a brief note telling her his traveling salesman's job won't be bringing him back her way anytime soon.
When the United States goes to war, Celeste goes to work with other women at the newly-established canteen to entertain soldiers flooding the town's two military bases. She isn't expecting to see Kent there, but she hopes she'll be seeing a lot more of him.
She has deep feelings for Kent, but she doesn't understand why he wants to push her beyond her standards of behavior. Then a new employee at Woolworth begins to talk about 'Kenny' and shows her a picture of their little boy. Kent admits going to school with the girl but denies being the father of her child.
When he leaves for England to fly as a bombardier on daylight bombing raids over Nazi-held Europe, Celeste is left with only bad memories of their last night together when his insistence on more intimacy only repelled her. Then one chilly Sunday morning, she sees someone in a car push a small boy onto her front lawn and speed away. She brings him into the house—and into her heart. Is Jonny Kent's son after all? She doesn't know, but she knows he needs her as much as she needs him.
Celeste wonders what will happen when Kent comes home. When he's reported missing in action, she wonders if she even wants him to.