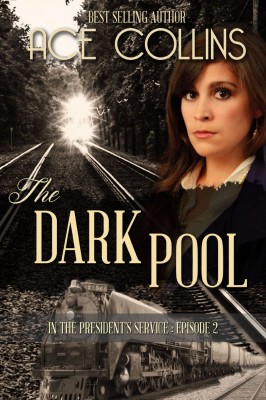 Helen Meeker is up against impossible odds as she races against time to rescue both her sister and her partner. To further complicate matters, however, behind-the-scenes experiments threaten the very survival of Western civilization. From the halls of the White House to the hidden laboratory of a diabolical scientist to the foreign fields of battle, a pervading evil moves ever closer to the successful overthrow of all that is good. Will Helen Meeker be able to stem the tide…or will she be swept away in its dark undercurrent?
About the Book
This is the second installment of a serial series, In the President's Service, that comes out once a month. It is best read in order with its predecessor, and you will want the following episodes, too! Ace Collins had introduced us to Helen Meeker, who works for FDR at the time of WWII. She is also reunited with her former FBI partner, Henry Reese, or, she WAS until she finds herself furiously racing the clock to locate and save both Reese and her sister from sinister forces. Starting with the capture of a Nazi spy,the ninety mile-an-hour action only screeches to a stop when the last page has been anxiously thumbed and the reader is praying for next month to come soon! An absolutely fabulous read for male and female alike! ~ Babbling Becky L, Amazon
Dark Pool picks up where A Date with Death left us. Reece and Allison have been abducted and Helen Meeker is in a countdown to save her sister and partner. But can she get the information she needs from British Army hero Reggie Fister or will he taunt her until it is too late?
But someone is determined to carry out their mission and Reggie Fister is an important part of completing it. And they are willing to do anything to get their man back.
Dark Pool is a fast paced and exciting story you won't want to put down. Who does Helen choose to go after – her sister or her partner? Who will she save? This episode is as exciting as Episode 1 and it will leave you in anticipation of Episode 3. Cliff-hanger that will leave you gasping! ~ MM-B, Amazon
This is the second episode of In The President's Service mystery series. Ace Collins has once again hit it out of the park and snared us with danger, intrigue, action, suspense and everything else fantastic that you can pack into one episode. I can't get enough of this series and am chomping at the bit between each episode dying to know what happens next.
Helen continues to jump head first into her job and loyalty to her country to save those innocents around her. In a time where everyone is on alert for those who would do anything for money – including handing over your own country – Helen knows she is up against the best. The whole mystery of Reggie Fister keeps this story rolling, then you add a secret lab, her sister in danger, her partner missing or dead and you just can't put the book down. Ace knows how to trail the breadcrumbs leaving you wanting more when you turn to the last page and cry "NO!" when you realize it's a cliffhanger. What can this secret laboratory mean for our country? Will they ever get to the bottom of it? Is Helen's partner dead or alive?
Add on top of all this the fact that Ace knows how to immerse you into the era. I felt I was there in that time period of history. He knows his stuff!
Highly recommend this whole series – go get it and READ! ~ Susan, Amazon
Other Books in "In The President's Service"