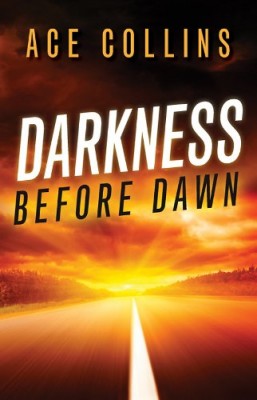 On the same night she discovers she is pregnant, twenty-eight-year-old nurse Meg Richards' husband is killed in an auto accident caused by a drunken teen. James Thomas, the teen, comes from one of the most influential families in the community. He's a star athlete and glamour boy at the local high school. Angered by her senseless loss, Meg blames God for what has happened and considers a decision that could change her life even further—until the D.A. intervenes. The results of the brutal trial enrage Meg, leading her down a frightening path of retribution. When the opportunity for revenge comes unexpectedly, will Meg follow through? Or will the remnants of her faith lead her in a different direction?
About the Book
Yet another winning book from Ace Collins! I have previously read Yellow Packard and Christmas Star, and while I must admit candidly that Ace isn't one of my all-time favorite authors, the books are good enough that I keep reading them and anticipating reading the next one. This one dealt with some especially tough (and hard to handle) topics: hate, sorrow, resentment, revenge, pushing God away. But I felt that the author handled them very well. It was an amazingly real and understandable and sad book! I completely understood what the main character was feeling throughout the book. God was prominent throughout, but at the same time, to be blunt, He wasn't overkill. At least, I never felt like He was. Definitely there, but not pushed down a person's throat. The ending was terrific – this book is sad, like I said, but also amazing due to the redemption. I would recommend this to late teens and adults, men and women. It's a good book, and not one you'll forget in a hurry. ~ Charity U, Amazon
Darkness Before Dawn contains a phenomenal plot about the effects of drunk driving and having Faith when life spins out of control. Meg Richard's is a nurse at a local hospital committed to helping sick people. One night, her life falls apart and everything completely changes. Her husband, Steve Richards was on his way back home when his vehicle was struck, and he was killed by a young drunk driver. The police found out that a high school star athlete, James Thomas was behind the wheel. He was injured in the crash but only received minor injuries. James is also a judge's son and he believed that he would be let off the hook for the crime because of his father's position and because he got hurt. He felt no guilty for causing the death of another human being. Meg is relentless in making sure that James pays for the death of her husband. And to add more drama to the story, on the same night her husband is killed, she discovers that she is pregnant with their first child. Like anyone who has lost a loved one, she begins to blame God for not preventing the deadly crash. She is torn about keeping the baby or having an abortion. Will she end up having the baby? Will James be convicted of the crime? Can Meg find a way to trust in God again?
I would recommend this wonderful book to anyone who enjoys reading plotlines about real life issues. I believed that this book was written to fit in today's times. This book covered the effects of drunk driving, grief from losing someone you love, young people not realizing the impact their actions have on others, pregnancy and deciding whether to keep the baby or have an abortion, and trusting God when things go wrong. I immensely connected with the dilemmas that Meg faced and I felt for her when she lost her husband and she was expecting a baby. Losing a spouse is beyond unimaginable and it's one of the hardest things people have to experience. And being a single parent now because of a drunk driver would damage anyone. I understood the grief and anger Meg held towards James. I also hated how James didn't feel much remorse for driving drunk and killing someone. We need to teach our children to have empathy and to make wise decisions. I loved the details Ace Collins included to depicted and shape the story into an exciting plot! If you're looking for a new exhilarating book to read, then this one is one worth reading! Hopefully this book will cause readers to think twice before getting behind the wheel drunk. If you're thinking about having an abortion, this book will influence you into thinking otherwise. Always remember that our behaviors and actions doesn't just affect us, they affect the whole world! ~ Andrew S, Amazon