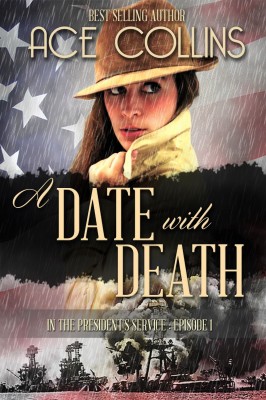 Helen Meeker is back and has less than thirty days to stop the execution of an innocent pastor who has unbelievably confessed to being a Nazi spy. While on a case that has dynamic implications to uncovering an espionage ring operating on American and British soil, Helen defuses a hostage crisis in a bank robbery gone wrong, unearths an explosive coffin, and is introduced to a dead English hero who seems very much alive. The fate of an innocent girl and the world's two most dynamic leaders depend upon Helen's connecting cases before Wilbur Shellmeyer faces a firing squad, and Churchill and Roosevelt meet for a secret conference in upstate New York.
About the Book
Set against the backdrop of the early days of World War II, A Date with Death combines action, adventure, mystery, and romance in a tale that will keep readers on the edge of their seats until they, like Helen Meeker, answer the question, "Do I save the leader of the free world or an innocent man scheduled to die to protect someone he loves?" Which life is more important?
Though the answer to this question will be revealed at the end of A Date with Death, Helen's action and adventure will continue at a break-neck pace throughout the "In the President's Service Series," as she takes on new challenges and dangers.
I loved the book! Can't wait for the next part. Once I started I couldn't put it down. Took me close to 3 hours. The characters in the book work outstanding. They were all very believable characters. Helen Meeker is one tuff lady working for the President of the United States, kinda his right arm guy. She is trying to save a man on death row. Proving he is innocent is not easy . Especially since he says he is guilty. Why would a man want to die? Helen is determined to find out. Excellent book you like adventure you will love it. I know I am ready for the second part. ~ D. L. Montgomery, Amazon
I usually steer far clear of WWII-themed books, but this one was great! A Lutheran pastor, Wilbur Shellmeyer, is accused of spying for the Nazis and will be executed. Helen Meeker, who used to work for the FBI and now works directly for FDR himself, is certain Shellmeyer confessed to cover for someone else. Meeker enrolls help from her former partner, Henry Reese, and they hurry to prove Shellmeyer innocent before the execution date. However, FDR has an important assignment for Meeker, too, that includes dating the British officer assigned to Winston Churchill, who is coming to DC for a visit. Helen finds herself falling in love, confused, and running out of time to figure out the few cryptic clues Shellmeyer leaves, that will impact international security.
This is episode 1 of a serial story. It fittingly ends, leaving the reader gasping for the next swipe of an ebook page. Espionage, war scenes, romance, booby traps, and an emphasis on Helen's yellow Packard help the story appeal to both men and women. I highly recommend it!
Other Books in "In The President's Service"