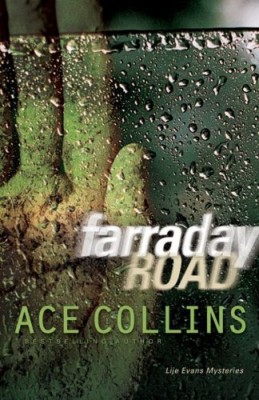 A quiet evening ends in murder on a muddy mountain road. Local attorney Lije Evans and his beautiful wife, Kaitlyn, are gunned down. But the killers don't expect one of their victims to live. After burying Kaitlyn, Lije is on a mission to find her killer---and solve a mystery that has more twists and turns than an Ozark-mountain back road.
About the Book
When the trail of evidence goes cold, complicated by the disappearance of the deputy who found Kaitlyn's body at the scene of the crime, Lije is driven to find out why he and his wife were hunted down and left for dead along Farraday Road. He begins his dangerous investigation with no clues and little help from the police. As he struggles to uncover evidence, will he learn the truth before the killers strike again?

Farraday Road by Ace Collins provided a twisting, turning, hold-your-breath ride through the backroads of Arkansas and the complex mystery of Lije Evans' life. What starts out as a routine murder investigation turns into a mystery involving lost trains, lost treasure and lost hope. I really enjoyed Collins' novel. It provided a welcome suspense puzzle for me. I had two very quiet days to myself, and Farraday Road was a great way to spend them. Please be advised though that there is a sequel and the novel ends with a BIG cliffhanger. I haven't read Swopes Ridge (book 2) yet, but it is on my must read list. So do yourself a favor and get both books; a sure way to head off frustrated imaginations! ~ B Burnham, Amazon



I did have to put it down to feed my children, unfortunately; but I still got it all read in one day. What was it? Farraday Road by Ace Collins! The first half is very similar to a cozy mystery, but the second half started to evolve into a regular mystery. I think guy authors just can't keep their mysteries local. Seems like they have to expand them into a worldwide thing.
I was not able to predict what was going to happen, but I was not thrown out of whack by extremely complicated twists and turns. Both a plus for me.
I was introduced to the deputy first. In one chapter the author managed to let us know about her, her family, life, and beliefs. So when she went missing it was somebody I cared about. Lije Evan's character is revealed a bit slower, but in a good way. I love the humor of Janie who is dropped into the story 3/4 of the way through.
There is detective work, deception, train history, and folk lore. It all went together well. Bad news: The book does not end. I really thought it was going to have a bit more of a resolution. Good news: The next one is already out. Swope's Ridge (Lije Evans Mysteries) is available for purchase! ~ Jendi, Amazon
Other Books in "Lije Evans Mysteries"