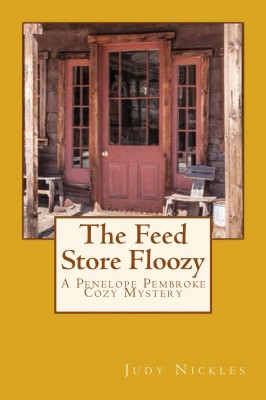 A former Amaryllis resident returns to open an antique store in a building which has had many lives, including a saloon/parlor house, but Penelope and the other residents of the town aren't counting on the murder and mayhem he brings with him.
About the Book
The mayor of Amaryllis, Arkansas (pop. 5492) has steadfastly refused to let the town die after the biggest contributor to the economy folded. Harry Hargrove's off-the-wall ideas for The Black Walnut Cake Competition, Cupid Convention, and Tulip Turn-Around, among others, has the residents working together to pull in tourists who will leave their money behind. Even Penelope has contributed by turning the old Kelley home into a bed and breakfast.
On the other side of the coin is Brice Dolan, who shook the dust of the town from his feet because he couldn't deal with living 'on the wrong side of the tracks'. Now he's back to open an extension of his successful antique business in Little Rock. He leases a building on the square. Immediately, rumors begin to circulate about what he's found on the second floor of the old feed store.
The mostly-conservative folks of Amaryllis aren't thrilled when he invites a college buddy Wally Powell to detail the find in the national media. Wally takes about half a day to get on everyone's wrong side, including Miss Maude Pendleton, retired English teacher, who didn't put up with any nonsense in her classroom and doesn't see why she should change her mind about it now.
Wally brings in photographer Jill Jerome who also has college ties to Brice and wants to renew them in spite of the fact he's married. A daylight almost-brawl on Main Street pits Wally, Harry Hargrove, and newspaper editor Hal Green. It's good entertainment for the populace, but when it leads to not one but three murders, people aren't buying tickets.
Of course, Sam is back—unofficially, he says—and Penelope is too glad to see him. Not for the first time does she wish she'd never gone to the Sit-n-Swill the night he roared in with the bikers from nowhere. And when she begins to figure out what's really going on behind the scenes at the old feed store, she sets herself up to be the fourth victim of the villainous plot.
Other Books in "The Penelope Pembroke Cozy Mystery Series"