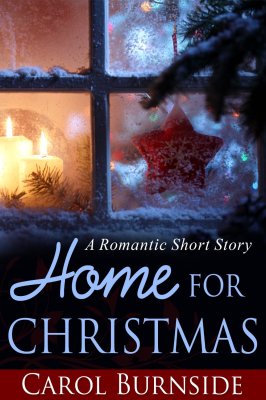 Joseph and Danni were college friends who abandoned their relationship after a flash-hot affair one Christmas weekend. When their paths cross again on another snowy Christmas Eve, fate gives them a rare second chance. Can they push beyond past hurt and finally find a home with each other for Christmas?
About the Book
As of November 13th  – #17 on the Amazon Best Seller List for Holidays Fiction
NOTE FROM THE AUTHOR: This e-book is designed to give you a quick, satisfying read along with two 3-chapter samples of other books I've written so you can try out my writing with little expense.
About the Author
Carol Burnside is an award-winning author of "Sizzling romance with heart and humor." Her personal second-chance-at-love story resulted in a marriage to her high school sweetheart of thirty-plus years. They reside in northern Arkansas, where Carol enjoys the Ozark foothills from her office windows and drinks tea year round. Carol's novel length manuscripts have placed in numerous contests and won five, including the prestigious Maggie Award for Excellence. Writing as Annie Rayburn, she produces speculative fiction, e-published, erotic romances which have been favorably received. While she enjoys the adoration she receives from her furbabies, what Carol/Annie really loves is hearing from her readers. Visit her at CarolBurnside.com or PetitFoursAndHotTamales.com.