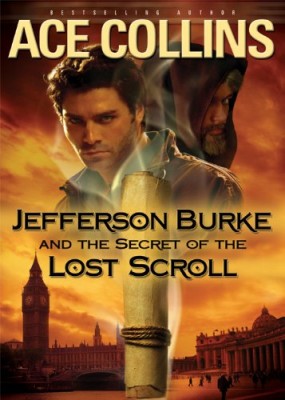 Jefferson Burke and the Secret of the Lost Scroll is a mystery as old as the Christian church wrapped in a modern-day thriller. Though an unwilling hero, professor Jefferson Burke's intellectual curiosity pits him against the powerful Bruno Krueger in a race to find a 2000-year-old scroll that calls into question the divinity of Christ and could shake the foundation of Christian faith, upsetting the balance of power in the modern world. Their deadly quest spans the globe, involving officials from the Vatican, CIA and FBI agents, British royalty, a Hollywood actress, and modern terrorists.
About the Book
This classic battle of good vs. evil will hook believers and doubters alike. The uncertainties raised by the very existence of the elusive scroll will have every reader questioning the basis of their faith and wondering what would happen if certain fundamental truths suddenly were proven untrue.
Artfully and thoughtfully told, this is the kind of action-packed adventure story that will keep loyal Ace Collins readers—and increasing legions of new fans—coming back for more.
I was provided a pre-release copy of this book, and although I was familiar with many of the author's non-fiction works, I had not previously read one of his novels. I was hooked on the story from the first chapter.
Although published by Zondervan, a Christian book publisher, Jefferson Burke & the Secret of the Lost Scroll reads more like an action-adventure from the general market, reminiscent of The Raiders of the Lost Ark or The Di Vinci Code.
Collins draws strong characters, including a former American-Asian Army Ranger turned FBI agent by the name of Lisa Marie Cho, who often drives the main action of the plot. She is accompanied by university professor Jefferson Burke, a sometimes-unwilling traveler in the ride of/for his life, who is a compelling and likable character none-the-less. Despite their differences, Burke and Cho work together well as they seek to unravel clues from a mystery that has crossed centuries and international borders.
Blurring the line between fiction and reality, Collins weaves in elements of real history–such as secret societies and the inclusion of well- and lesser-known historical characters sprinkled throughout the plot–pulling the reader into the "experience" of the story. This is a fast-paced, well-written action adventure that will entertain a cross-section of readers.~ 5-Star, Review, K Harris, Amazon
Other Books in "Lije Evans Mysteries"