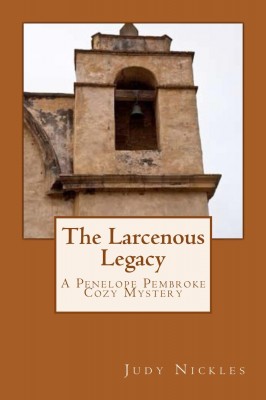 The new priest at St. Hyacinth's brings a breath of fresh air to the parish, but something about an ordination gift from his immigrant grandfather is rattling the bones of evil past and present.
About the Book
St. Hyacinth's Catholic Church, where Penelope has grown up, welcomes a new young priest with an interesting family history stretching back to Nazi-held Poland. Part of the history has to do with a chalice given to him as an ordination gift by his immigrant grandfather. When it disappears, Penelope is concerned, then shocked when it turns up at the community center.
A series of break-ins at the church in which nothing is taken only serve to deepen the mystery, but it all seems to center on the chalice. Penelope can't get to the bottom of that riddle, but she finds another mystery to research—the original construction of the church which started as a Franciscan mission to the Quapaw Indians living in the area.
Meanwhile, Mary Lynn is getting the community center up and running, but a menacing drifter seems determined to shut down the traditional Christmas program. Shana Bayliss finds herself caught between wanting to continue her relationship with Peter Taliaferro and his ex-in-laws who are determined to wrest custody of Tabby from her father, even if they have to drag Shana through the mud to do it. And Penelope finally sees hope for some grandchildren when Brad marries Officer Rosabel Deane.
Fr. Kris's widowed sister Ivana and her nine-year-old son come to live at the rectory. Officer Parnell Garrett, Amaryllis's most eligible bachelor and also a 'dunk-em Baptist' as Jake likes to say, is hooked. When he has to intervene to protect her from a cousin with mafia connections, it appears to be the end of their relationship—and of his career in law enforcement.
Sam moves closer to fulfilling his promise to Penelope, and she's willing to wait. She just wishes she didn't have to wait so long. In the meantime, between disappearing chalices and events spiraling out of control around her, she has plenty to keep her busier than she ever wanted to be.
Other Books in "The Penelope Pembroke Cozy Mystery Series"