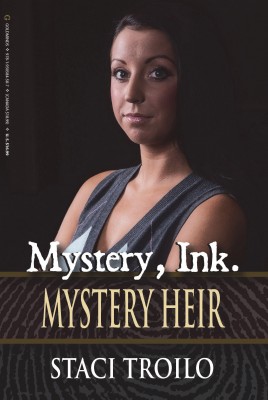 Mystery, Ink.: Mystery Heir is the story of a young woman who lives in a cursed town plagued by murders and mystery. Naomi Dotson recently lost her parents and is determined that no one else in the town will suffer the same fate. When another murder occurs and the police arrest a man who Naomi is certain is innocent, she does whatever she has to so that no more lives are ruined. But her actions result in dire consequences for a young boy, a sick mother, and her own family. Can she solve the mystery before anyone else gets hurt
About the Book
Some towns aren't meant to have their curses broken. Naomi and Penelope, the Dotson twins, don't believe in curses, particularly when they involve entire towns rather than individuals, but apparently most of the residents of Centerville feel otherwise. The latest in a string of what the twins call horrific coincidences is the murder of Joe Harbaugh, town councilman and business paragon. On the heels of his death, a series of break-ins at local establishments occur. The police narrow down their suspect list to one of Harbaugh's terminated employees, but the sisters aren't convinced. Together, Naomi and Penelope start their own investigation and get tangled up in a web of lies, kidnapping, and attempted murder. Can the Dotson twins solve the mystery before someone else gets hurt?
Amazon Review Excerpts:
A Must Read Mystery! (5 star) Staci Troilo is an excellent writer who is adept at creating multi-faceted characters that find themselves tangled in complicated situations. She writes a mystery that is interesting and compelling and keeps the reader guessing and scratching their heads, all the while carrying them to the end where she wraps it all up into a nice, neat bow.
My New Favorite Author (5 Star) This book had a rich cast of characters, interesting details, and great writing which captured my attention and wouldn't let go till the very last word. I loved it.