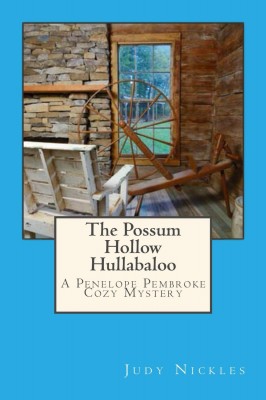 Penelope keeps the B&B slick as a whistle, but when the secrets of a forgotten community set back in the hills begin to leak out, she finds herself in the middle of a mess she can't clean up.
About the Book
Possum Hollow has existed on the outskirts of Amaryllis for a hundred years. "East is east, and west is west, and ne'er the twain shall meet," as the old saying goes. But a dedicated group of teachers want to save the children if they can and convince the school board to let them try. When librarian-general flunkey Tammy Turney leaves to be with her fiancé who's been wounded in the Middle East, Penelope and Mary Lynn volunteer to fill her place. So, unexpectedly, does Miss Maude Pendleton, who put fear into generations of high school students but now spreads a calm among the children which can only be described as miraculous.
When Principal George Harris makes a home visit to check on a student whose attendance has become erratic, he returns with the Ellie as well as her four-year-old sister Evie. Despite the interference of an officious social worker, Mary Lynn takes them home for the night and dares to hope she and Harry might be getting a belated answer to their prayers for a family.
But the girls have seen too much and know too much, and are whisked away to a safer place when their father is arrested for murder. Unfortunately, they're Haddens, and Haddens don't take kindly to any of their kin being held anywhere except in the Hollow. A near tragic shooting and a kidnapping leave the school staff in shock, but they refuse to back down in their quest to save the children.
Penelope manages to infuriate her son as well as Sam—who seems to keep turning up—when she plays amateur sleuth. Abijah the cat isn't happy either when Penelope opens the closet under the stairs and turns up some really dangerous evidence instead of the expected mousy treat.
Then Sam comes back with a Christmas present for Penelope—and a promise he can't give her a timetable for fulfilling. And that's only the first of the Christmas miracles about to unfold.
Other Books in "The Penelope Pembroke Cozy Mystery Series"