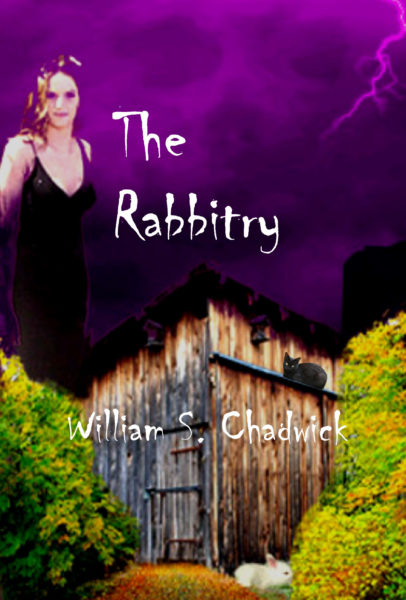 If you have never watched evil reach up from Hell and entangle a loved one in smoldering tentacles, you will never know what Michael Blake has gone through…but you are about to find out. Desperate to save the love of his life, Michael fights the devil, himself, for a chance to rescue her from drowning in a dark and raging sea of despair. When all seems lost, he has one final solution. Will he manage to save her from the darkness…or will the devil devour them both?
About the Book
10% of 'The Rabbitry's' net proceeds from all sales, paperback and ebook, goes to the National Military Family Association.
What do you do when you have opened the gates of Hell and nothing you do can close them again?
A young couple's dream home becomes their worst nightmare when tragedy strikes them again and again. What triggered it? Was it the artifact accidentally unearthed in the back yard? Was it a curse held over from the days of slavery? Or was it something infinitely more sinister? Is there any way to escape the evil that has been unleashed?
Listen in as Michael Blake recounts the story of his wife's tragic death, and the events leading up to that fateful night, to a bartender on a slow night in New Jersey. Hear the tale of a young couple toyed with by the devil himself, like a cat playing with a doomed mouse. Find out what secret Michael is carrying about the night his wife died…a secret to be taken to the grave…
…if it hasn't gotten there already.
It was an incredible story but very compelling.. Hard to put down. I hope he has more books in our future. (GalAnnie)
A very well written horror book. You won't be able to put it down until you are done. Can't wait till the next page turner from Mr.Chadwick! (adam Johnson)
I was sucked into this story with pure fascination of the characters that are honest and relatable. The story is slowly intoxicating giving you enough to keep interest without spiraling too hard or fast into a fictional world. By the time the story does slip through it's rabbit hole you are attached with wonderment and disbelief that life could dish him yet another left hook. As the realization of the spiritual world settles in your stomach (and the character's) and the source of the evil is unveiled, your eyes will be violently searching for hope word after word, page after page until the very end. (part time reader)
I enjoyed this book very much, I kept thinking as I read what an interesting movie this could make! So glad I took it on vacation with me! (K. Thornton)
Wow! This book took me for turns I didn't even see coming! The characters were so well written that you feel like you're there with them, watching them descend into madness. You feel their frustrations, their pain, and you sympathize with them. The setting is great, with details that help you visualize your surroundings but don't overwhelm you. The dialogue was to the point, there were actual issues and morals tied in to the story, and the suspense was very real. I give it a 4.5 out of 5. It's a great book, scary and suspenseful right to the very end. I would recommend this to anyone looking for a good read! (LadyErynn's Honest Reviews)