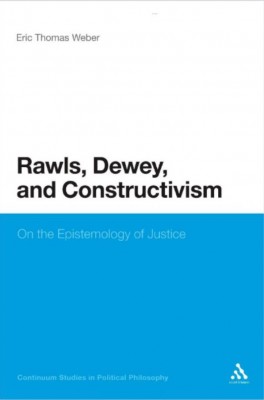 In 'Rawls, Dewey, and Constructivism,' Eric Weber examines and critiques John Rawls' epistemology and the unresolved tension - inherited from Kant - between Representationalism and Constructivism in Rawls' work. Weber argues that, despite Rawls' claims to be a constructivist, his unexplored Kantian influences cause several problems. In particular, Weber criticises Rawls' failure to explain the origins of conceptions of justice, his understanding of "persons" and his revival of Social Contract Theory. Drawing on the work of John Dewey to resolve these problems, the book argues for a rigorously constructivist approach to the concept of justice and explores the practical implications of such an approach for Education.
About the Book
"Weber provides a well considered and carefully crafted analysis of the work of John Rawls from a Pragmatist perspective."
— Larry A. Hickman, Center for Dewey Studies, Southern Illinois University


"Weber's RDC provides a welcome addition to the Rawls literature by offering a Deweyan critique of, and alternative to, Rawlsian constructivism… In the contemporary political and economic climate, Weber's call for strengthening the American tradition of public, humanistic education is refreshing."
— Nicholas Tampio, Pol Sci, Fordham U.



"Weber's critique is … robust[,] judicious and collegial throughout… Weber has delivered a powerful [case]"
— Richard Cotter, Political Studies Review


"Eric Thomas Weber's comparative study identifies a deep Kantian tension between constructivism and representationalism in Rawls. His well informed, very clear and persuasive critique of Rawls highlights the many resources of Dewey's constructivism and constructivist epistemology for democratic political philosophy."
— Tom Rockmore, Duquesne University


"Eric Thomas Weber's excellent book raises a constructivist challenge against Rawls's constructivism… In his short, tightly-argued book, Weber further develops the constructivist criticism of Rawls in creatively comparing and contrasting the views of Rawls and Dewey… Weber's Deweyan critique of Rawls's constructivist conception of justice points to the difficulty in grasping Kantian constructivism. In Rawls's writings, the reference to Kantian constructivism is so vague as to be essentially meaningless. That is one of the implications of this very useful book."
— Notre Dame Philosophical Reviews
Other Books in "Continuum Studies in Political Philosophy"