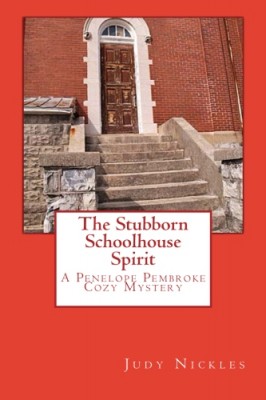 When Penelope agrees to help the mayor's wife turn the old school into a community center, she isn't counting on what she'll find at the bottom of the 13 steps leading to the basement.
About the Book
According to Jake Kelley, Penelope's drooping since her last encounter with Sam. Only the prospect of a Christmas party at the B&B and helping her friend Mary Lynn renovate the old town school as a community center seem to brighten her spirits. The problem is the spirits which seem to be hanging around the century-old building and impeding all attempts to fill its empty rooms.
Enter Peter Taliaferro, a young widower with a four-year-old daughter, who catches the eye of librarian Shana Bayliss. Her history with Travis Pembroke hangs over her head like a sword on a silk thread, but she's trying to make a new life for herself.
Mike and Millie Dancer have taken over the Sit-and-Swill, and while they don't really have three strokes against them despite being recreational bikers and possible designers of daring lingerie, they still have to try hard to become part of the community. The problem is, in remodeling the Sit-and-Swill on the site of the town founder's first home, they've uncovered an old rock fireplace, and something—or someone—is still hanging around inside it, too.
Penelope says she doesn't believe in ghosts, but what Peter discoverers beneath the old school boiler he's trying to repair is enough to make her wonder what she believes. The Peter's little girl Tabby visits the old school and makes a new friend. Unfortunately, Jessie Ruth went to school there in another era and has been dead for twenty years.
Digging for information about the town in the state archives raises too many questions and provides too few answers to provide Penelope with a satisfactory explanation as to what's really going on in the old school. And on top of that, Sam's back, stirring feelings in her she thought she'd buried when she divorced Travis Pembroke. She's convinced he has answers, but he's close-mouthed as a grave. It's the grave part that worries her when she disregards his warnings and goes looking for answers on her own.
Other Books in "The Penelope Pembroke Cozy Mystery Series"