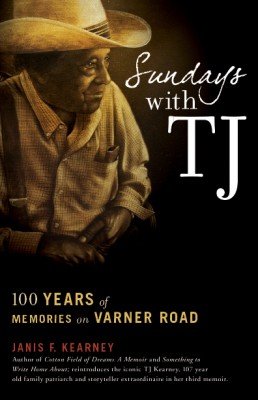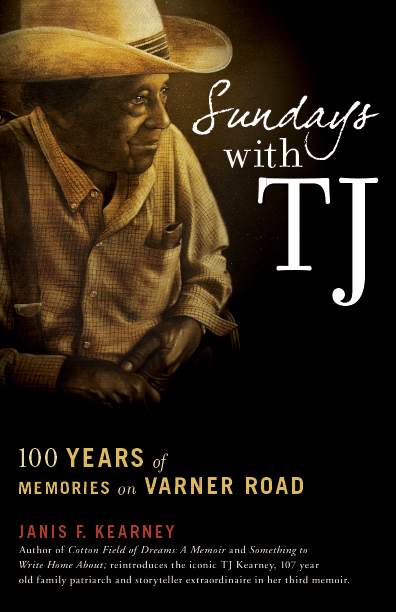 Presidential diarist Janis F. Kearney; author of critically acclaimed Cotton Field of Dreams, introduces her third memoir and reintroduces Kearney patriarch Thomas James "TJ" Kearney, in Sundays with TJ: 100 Years of Memories on Varner Road. 107-year old TJ Kearney's life – from the days of horse and buggy in early 20th Century, to the age of twitter and Instagram in the 21st Century - is examined through his children's poignant memories, TJ's legendary story-telling, and historical narrative.
About the Book
A lot has changed over the 107 years Thomas James "T.J." Kearney has been on this earth; and the almost 70 years he lived on Varner Road. One important thing remains the same – Sunday dinners. TJ, patriarch of the cotton sharecropping family of Gould, Arkansas is 107 years old. Yet, the witty, wise story-teller extraordinaire still regales friends, family…and traveling salesmen, with his life stories.
Janis F. Kearney's third memoir, Sundays with TJ, presents the 107-year old family patriarch from the viewpoint of a daughter still mesmerized by the stories she grew up hearing. T.J., the last of the nine Kearney children born in southeast Arkansas, yet enjoys pulling from his treasure trove of memories of the exciting, but challenging life he's lived; including the 70 years of raising children on the eight mile gravel byway called Varner Road.
Introduced to great acclaim in her first memoir, Cotton Field of Dreams; Janis F. Kearney says TJ is much too large a personality to hold within four walls – or, inside any book not dedicated exclusively to him. "Imagine an amalgamation between Morgan Freeman, and James Stewart, she writes. TJ still regales family and friends with stories and anecdotes of his amazing life – the Presidents he's voted for – and the one he calls "friend"; the trains he hopped as a child, and the sights he witnessed around the world.
TJ lives now with fond memories and pride in a life well lived; in the successes of his children –all college graduates, and living the American Dream. As the Kearney children grow older, and their families expand; Sundays with TJ grow increasingly poignant, and increasingly important in keeping the patriarch's rich legacy alive. The voices and memories in this book include TJ's, the author's, and the rest of the Kearney children.