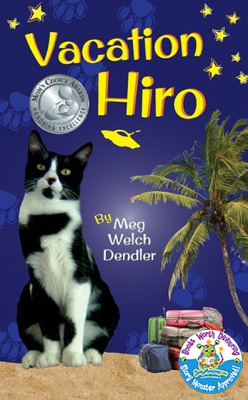 In Book 2 of the Cats in the Mirror series, house cat Hiro is faced with a new challenge when the family leaves for a week and she is accidentally back in contact with the alien Cats in the Mirror. She and Kimba will learn many shocking things about their true heritage and what plans destiny holds for them in the stars.
About the Book
Vacation Hiro is the sequel to the Moonbeam Children's Book Award-Winning story of Why Kimba Saved The World.   Destiny is a tricky thing. By its very nature, it cannot be escaped. Hiro and Kimba thought they were free from the pull of their destiny and the scheming of the alien Cats in the Mirror. But when the family goes away on an extended vacation, the sisters find themselves right back in the middle of it all again. A week is an eternity for a cat left behind. Without Daddy's love and care, will Hiro be tempted to join her space-traveling cat family and leave Earth behind? Will learning the truth about their heritage change the sisters' lives forever?
Some cats are born on Earth and
never know who they really are.
Others are sent.
They are undercover
for their years on Earth.
They know who they are.
They know that they are not
from Earth at all.
And they are part of a bigger plan.
Meg Welch Dendler is the award-winning author of over 100 articles in newspapers, magazines, and on web sites. She has interviewed interesting people from Dwayne "The Rock" Johnson and Sylvester Stallone to the Archbishop of Capetown. Now alien cats and ghosts run her world. Her Moonbeam Children's Book Award winning debut novel, "Why Kimba Saved The World," was followed by the sequel, "Vacation Hiro," in November of 2013, and her paranormal-style adult book "At The Corner of Magnetic and Main"–set in her very haunted city of Eureka Springs–is due out in the spring of 2014.
Other Books in "The Cats In the Mirror"