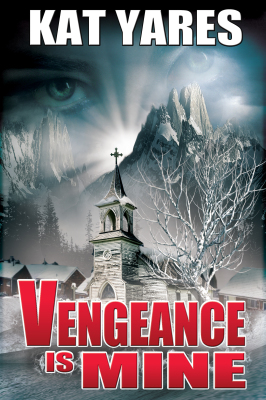 VENGEANCE IS MINE is a fictional story of women and child abuse and manipulation. The story itself is spellbinding and captivating to the end. It can at times be emotional and you will find yourself rooting for Macie and hating the men in this book. Although this is fiction, there was a time when men ruled the house with an iron fist.
About the Book
As the small, religious community ruled by the sadistic Brother Joseph Jones braces for a coming ice storm, a battered, beaten Macie Jones hovers between life and death. Cooter James, a former POW, discovers Macie's freezing body and must make a decision: try to save the woman he has found or continue to ignore the happenings in the village below and maintain his hermit like existence. His decision made, Macie lies comatose in Cooter's cabin and discovers that she has opened the veil between the living and dead of the brutal, patriarchal community. Through her, the women and children that suffered before her have found a way to repay their own brand of vengeance on the men who treated them so brutally in the name of God. In the dreamtime, Macie must make her own decision: help the women with their plans of revenge or try to prevent any further death and pain. This novella contains graphic violence and would be rated "R" if it were a motion picture.
Editorial Review: I finally finished VENGEANCE IS MINE by Kat Yares. I wish I could say I'm going to review it in the article, Religion and Horror, but I'm only going to use its religious base to exemplify and examine the definition of "evil". So, I'll say right here: Vengeance is Mine is the perfect Horror novella. A gentle story with just the right amount of "ghosts" and "terror" to make it a quick read. I savored it and read it slowly. If you haven't read it, I recommend you acquaint yourself with a master story-teller who weaves a wicked tale of redemption and, of course, vengeance. – Anthony Servante, Servante of Darkness blog.