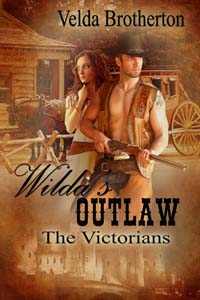 Calder Raines and his outlaw gang may be more than Wilda Duncan bargained for. All she wants is to escape an unwanted marriage, but she finds herself in the arms of a tantalizing man whose warm kisses arouse a storm of forbidden desires. Calder never wanted to rob banks, but it's a family tradition. When he embraces the alluring redhead, passion conquers good sense and he imagines a life he cannot have. Will Calder return her to the man she is to marry before she gets hurt? Can Wilda set things right and prevent Calder's arrest?
About the Book
From the Author
Wilda's Outlaw is much lighter than most of my western historical romances. I had fun figuring out how Wilda Duncan, a Victorian woman, clad in layer after layer of buoyant skirts and undergarments could possibly be kidnapped on horseback. Outlaw Calder Raines and his horse Jeb solve the problem together and the solution involves a dunk in the creek and some shedding of clothing, to Wilda's horror.
I never know what's going to happen with my characters, and these two led me on a merry chase. I could scarcely get them reined in in order to end the book. I hope you enjoy reading it as much as I enjoyed writing it.
From the Inside Flap
"You aren't going to threaten to expose me . . . for the train robbery? If I don't do this, I mean."
"No, why would I do that?"
He thought for a while longer, and this time she remained still, ears clogged with the beat of her heart.
"If I kidnap you and it's not your fault you can't marry him, you think he'll continue to care for your sister and cousin."
"Yes, I do. It would be a matter of honor. But – "
"All right, then. I'll do it. We can figure out what to do with you later. But we have a problem."
Joy cut short, she stared at him. "A problem?"
"How do you propose to convince him that you've been snatched rather than simply run away? Do we leave a note, or maybe I could go knock on the door and say, 'hey, in case you didn't notice, I'm kidnapping your fiancé, or whatever.' Maybe that'd work."
Pondering on that a moment, she frowned. "Oh, you cannot do that, and I'm afraid he would not believe a note . . . I mean, would he not think I wrote it and ran off?"
"Yeah, you may be right. Okay, let me think."
She did, glancing occasionally toward the house. The lights had been extinguished on the lower floor, but some still burned in the bed chambers. Suppose someone went to her room, found her gone, raised the alarm? This was taking far too much time.
"Can you scream?" he asked finally, startling her.
"Why . . . yes, I suppose I can."
That said, he grabbed her around the waist and tossed her over his shoulder like a sack of feed. "You can scream anytime now."