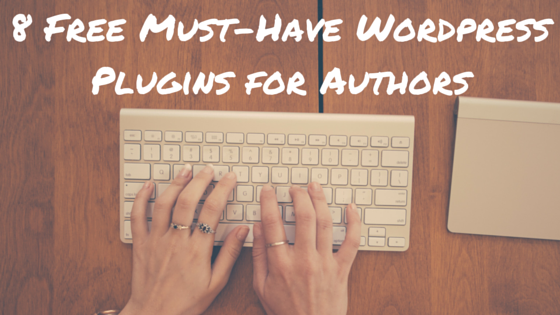 Are you using WordPress as the basis for your author website or blog? Here are 8 Free Must-Have WordPress Plugins for Authors that we believe will make your life easier. Please Note: These plugins are not available for wordpress.com sites.
MyBookTable allows you to have your own book page(s) that links to online bookstores where visitors can buy your book. We use the Developer version of this plugin for our bookstore and book ads. The free version is very robust yet is easy to use. There are also two paid versions that can help you earn more when books are sold through your site. We highly recommend this plugin for presenting and selling your books.

Social Media Widget is a simple sidebar widget that allows users to input their social media website profile URLs and other subscription options to show an icon on the sidebar to that social media site and more that open up in a separate browser window.
WordPress SEO is the most complete WordPress SEO plugin that exists today for WordPress.org users. It incorporates everything from a snippet preview and page analysis functionality that helps you optimize your pages content, images titles, meta descriptions and more to XML sitemaps, and loads of optimization options in between. In non-technical terms, it helps make your site and blog posts easier to find on search engines like Google and Bing

Newsletter – If you aren't doing a newsletter, you need to start NOW. Most of the big email service providers ( MailChimp, Aweber, Constant Contact) have a plugin so that you can add a signup form to your site.

Social Media Sharing – You have written a great post, now you want your readers to share it. In order for them to share your words, you need a sharing plug in. There is one built into the standard jet pack plugin, however most "experts" suggest that you use an additional plugin as well. We currently use the free version of SumoMe. In addition to making it easier for readers to share you posts, this plugin will make it easy for your readers to join your email list, and more.
NOTE: If you use Twitter as part of your social media platform, when choosing a social sharing plugin make sure that when your post is shared via Twitter, that your twitter name appears in the text generated for them to tweet. This makes it easy for you to see who and how often your post is being shared.
Editorial Calendar – As an author, you are used to planning and deadlines. Did you remember to write a post for next Tuesday? What about the Tuesday after that? WordPress doesn't make it easy to see when your posts are scheduled. The editorial calendar gives you an overview of your blog and when each post will be published. You can drag and drop to move posts, edit posts right in the calendar, and manage your entire blog.

WPtouch Mobile – more and more people are accessing the internet with their cell phones. You need to make sure that your site is readable on any cell phone. This plugin is easy to set up and other than installing plugin updates, you usually will not have to tweak settings.
Related Posts – Quickly increase your readers' engagement with your posts by adding Related Posts in the footer of your content. There are numerous related post plugins. We recommend Yet Another Related Post plugin.
Authors, are there any WordPress plugins that you can't live with out? Please share.
Not sure how to build or update your  WordPress website? We can help with our design service.