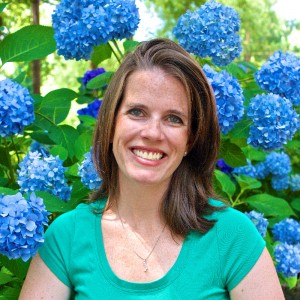 I grew up in Norfolk, Virginia and went to college and law school there. I met the love of my life in law school and he brought me back to Arkansas, where we settled down to have a family. I have two delightful young sons and am part of the thriving family law practice. We have fun family dinners with my in-laws, crawfish boils, riverbank parties, and a bar three blocks away. On a cold snowy day today I think about the many days my husband and I have spent on beaches drinking cocktails in Costa Rica, Myrtle Beach, Anguilla, and Virginia Beach. It's 5:00 somewhere!
---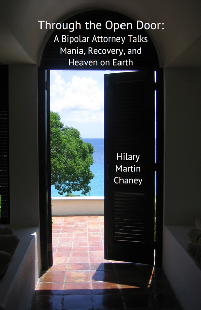 Through the Open Door: A Bipolar Attorney Talks Mania, Recovery, and Heaven on Earth
Attorney Hilary Chaney chronicles her struggles with and triumph over Bipolar Disorder with raw and real honesty. Tales of hospitalization, depression, manic trips to Heaven on Earth, the perils of law school, and the ups and downs of two pregnancies make up the first part of the book. The second section, called Graduating from God, reveals the post-religious philosophy Hilary brought back from Heaven. She shares how her prophecies will be fulfilled. Hilary's 43-page manic journal is included at the back of the book, recorded exactly as it flew from her fingertips.
About the Book
In Through the Open Door, award-winning author Hilary Chaney takes you places you can only imagine: a psychiatric hospital, a manic state, and Heaven on Earth. She chronicles her battle with and subsequent triumph over Bipolar Disorder, including her travails in law school and her ups and downs through two pregnancies. Hilary doesn't just report her story; she also offers coping tools for fellow Bipolars. Through the Open Door also offers a gift to those on the quest to find Heaven: it imparts the revelations Hilary experienced during her manic episodes, when she walked in Heaven on Earth and experienced a post-religion utopia. The imaginative and poetic writing sets this book apart, and few manic biographies give the reader an actual glimpse of the Bipolar brain like Hilary does, for she has included her manic journal in the addendum. The journal is raw and riveting, and recorded exactly as it flew from her fingertips. This book is a must read for those struggling with the scourge of mental illness and for those who have ever sought spiritual answers to our most profound mysteries.


"Hilary Chaney offers readers a rare glimpse into the human interior–her very own soul.  I applaud her courage to share so boldly her voice, a voice that could change our world if truly heard by the masses." Annie Burnside, award-winning author of "Soul to Soul Parenting."


"Through Hilary Chaney's deeply honest and open storytelling, she reaches others who are in the shadows of Bipolar Disorder.  She is a pioneer in the legal field in her efforts to dispel the myths and stigma surrounding mental illness." Sarah Cearley, PhD, LCSW, Executive Director Arkansas Judges and Lawyers Assistance Program.


"Give me a congregation of Hilarys and I have no doubt we could move mountains." Rev. Nathan Mattox, United Methodist Elder, Oklahoma.