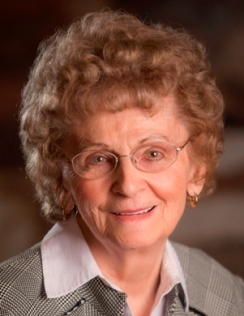 Marilyn Reicks grew up on a family farm in Northeast Iowa, the rural setting for Forever Faithful. For kindergarten through eighth grade she attended Canoe # 8, a one room country school. As a grade school student, she used to stuff a rug under the door so her mom did not know she was reading late into the night by a kerosene lamp to finish a good book. Because of WWII, the family could not get electricity to the farm. Living in the country, without close neighbors, book characters became like realistic friends.
Marilyn's high school years were at Decorah High School. After a summer at Luther College in Decorah and a year at Iowa State Teachers College, she started teaching in the same school, Canoe # 8 that she had attended as a child. Later, she continued her education to receive her BSE from Wartburg College and MSE from Drake University. . Of interest, Marilyn received a State of Iowa Permanent Professional Certificate July, 1978.
Besides Canoe #8, Marilyn was the teacher in a country school near Hawkeye. When her children were little, she went to night school in New Hampton to further her education.
After earning her BSE at Wartburg, Waverly, Iowa, she educated in a fifth grade self-contained room for six years at Alta Vista. After getting accreditation in working with learning disabilities she taught in a resource room at the Junior High in West Union. For awhile she was an instructor for GED classes.
For six years at Eldora High School, Marilyn was the teacher in a room for students having problems in learning. Many of her students were residents from the Quakerdale Homes. One summer she taught a student at the Boys Training School. Others schools she was a resource room teacher for included Green Mountain, Union, and Garwin.
After moving to Arkansas, Marilyn worked part-time with an autistic student at Elm Tree in Bentonville. In 2000-2001, she was a full time teacher at Pea Ridge Junior School in a resource room. In 2008 to 20012, she was a substitute teacher for the Siloam Springs School District substituting, averaging almost half-time, in rooms from PreK to high school classes.
Books have always brought Marilyn comfort, enlightenment, dreams, knowledge, wisdom and happiness. Some books provided guidance for a good life and shed the light of faith to strengthen her in trying times. Through reading she searched the path to contentment and joy. She is thankful well-chosen literary materials like a well-spring flow forth with words to bring fulfillment and meaning to her life.
She is the mother of four, grandmother of ten and great-grandmother of four. She enjoys very much being with all her family members. Marilyn especially appreciates traveling with her children. With them she has traveled many places that otherwise she might never have seen. In her retirement, she appreciates the time to read and write. Through her writing she enjoys renewing old friendships and making new friends.
---