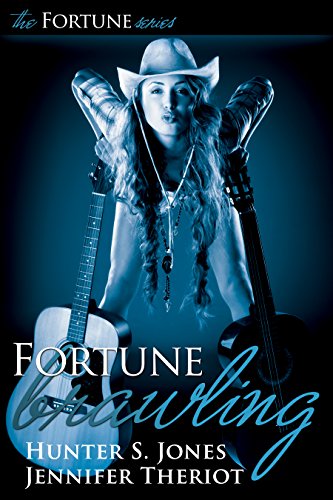 Fortune Brawling
The Fortune Series
Contemporary, Fiction, Young Adult
RA Jones Publishing
2015
Two guitars. Two wild women. One crazy honky tonking night in Georgia. The Ace is high and the Joker is always wild.
When Texas meets Tennessee, the end result spells T.R.O.U.B.L.E
In Story Two of The Fortune Series, we find country musician Dallas Fortune in a tight spot. Guitar God Billie Joe McAllister has betrayed her once again. As if by magic, her BFF from Ft. Worth Texas, guitarist Jodie Marie Jennings, drives all night to come to her aid in a time of need.
What happens at Bud's honky tonk in Trenton, Georgia should stay at Bud's, but it doesn't. What went wrong? Who gets in trouble and who gets revenge? Who are JD Fowler and Tom Vanderfleet? What does the best fairy godmother in Country Music history do to save the day this time around? These questions and more secrets are revealed in this adventurous, lighthearted and fun contemporary novelette.
Fortune Brawling is the second story in The Fortune Series. Set in contemporary Nashville and the surrounding rural areas. The series chronicles the life and loves of Dallas Fortune.
Book Excerpt
"Love Wears A White Stetson"
Excerpt from Fortune Brawling
The Fortune Series, Story 2
Fortune Brawling: The Story of Dallas Fortune . (The Fortune Series Story 2.) is set to be released in March 2015. Best selling author Jennifer Theriot has contributed to the novelette and introduces us to Dallas Fortune's BFF, musician Jodie Marie Jennings from Ft. Worth, Texas. You will also meet a new character named Tom Vanderfleet who recalls a quote from a guitar man long ago…Love wears a white Stetson. Here's an excerpt from Fortune Brawling, where we meet Tom Vanderfleet.
~~~
THE BARTENDER
The cell phone rang at the exact time the email had stated. Nervously, I punched accept and answered.
"Hello?"
"Hello, please hold the line for Mr. Jordan Simmons." With a click I was placed into a world of elevator music, wondering if this would be a good call or a bad call. Dallas won't accept any calls from me or answer my emails. If I could talk to her, we could get this all going the right way. We don't need lawyers or receptionists or elevator music. All we need is to see each other one more time. I will let her know the truth and we can have a real chance at happiness. If she will just give me that one chance I can explain everything.
A man's voice brought me to reality. "This is Jordan Simmons calling you from Nashville, Tennessee. Our call will be recorded, as part of the legal procedure we are pursuing. In order to keep our discussion brief, please only answer the question you are asked. Do you understand?"
"Yessir."
"Your full legal name please?"
Thomas Garrett Vanderfleet IV"
"Address?"
"238 Lookout Lane, Sand Mountain, Alabama 35951."
"Occupation?"
"Currrently unemployed but…"
Please, only answer the question you are asked, Mr. Vanderfleet. Understood?"
"Yessir, I do."
"Where you at Bud's, located at 13786 Ringgold Road, Trenton Georgia 30752 on the night of March 31 of this year?"
"Yessir, I was there."
"Did you meet a female by the name of Dallas Fortune?"
"Meet her? I married her!"
"Mr. Vanderfleet, may I call you Tom?"
"Yessir."
"We're going to follow a logical process of questioning here. Got it Tom? I ask the question you in turn will answer the question and nothing more. Do I make myself clear? Do you understand?"
"Got it, Mr. Simmons. I'm just all emotional like over this."
"A completely human emotion, Tom. You've had a bit of excitement in a short amount of time. I'm here to help you get it all unraveled so that you can get on with your life."
"What if I don't want to get on with my life? At least not without her."
A pen tapped on the table, with the tapping mirroring my heartbeat. After a pause, Jordan Simmons said, "Look Tom, Dallas is something else and one helluva woman, but I assure you, man-to-man, there is not a force on the planet that will make a woman stay with a man once she's made up her mind to go. Now, I know that from personal experience. Once they're ready to go, there is no way on earth to make them stay. This is off the record, by the way. No amount of money, flowers or gifts will do it. I know. Hell, I'll be working til I'm eighty years old. I've got two ex-wives, three kids, a 28 year old girlfriend, well actually two 28 year old girlfriends, and I will never make any of these women happy. Look what Liz Taylor did to Richard Burton. He gave her the biggest diamond in the world. Didn't work. She keeps the diamond. They've got what we want. If you get in too deep, you get addicted not only to IT, but to her. Those smart ones work on a man just like heroin or whiskey. You can't get over IT and you can never get enough of IT. Sounds as if Dallas gave you a big dose of IT. Maybe more IT than you have ever had. Probably the best IT you have ever had. But, I guarantee you, once they decide they are over you, it's done, it's over, it's like Rover and it's dead all over. Now, can we get on with this? I ain't got all day."
"All right Mr. Simmons. You're a little high strung, but I get your drift. Let's get on with the questions."
"To recap; you were at Bud's on Friday night, March 31, earlier this year. While you were at Bud's you met a female named Dallas Fortune. You can call me Jordan, if you'd like."
"Yessir, I did. Thank you Jordan."
"If you will Tom, please state what type of establishment Bud's is."
"Bud's is what we call here a honky tonk. It has music, alcohol and Bud's has the best fried boloney sandwiches in the Chattanooga area. On Tuesday's and Thursday's there's dollar beer night from 6:00 to 8:00pm. Wednesday is Ladies Night. All women get in free."
"Sounds like my kinda place, Tom. Now, tell me what you believe happened that night."
(C) 2015 Ra Jones Publishing
The Buzz on Amazon
5.0 out of 5 stars Vivid characters cause the story to unfold before you
By Ghost Writer
Format:Kindle Edition|Verified Purchase
Fortune Brawling is a short yet wild read. It starts off pretty much near the end. Through several points of view, you are then exposed to morsels that solve the questions you've asked in the beginning. All of the (rather vivid) characters get their stories in while you watch the picture build before you. It's a great, quick read for when you need to take a break from life and get in a good laugh. Warning: You will find yourself wanting to grab some whiskey, listen to country music, and read more.
5.0 out of 5 stars I loved it
By Lilian Roberts
Format:Kindle Edition|Verified Purchase
"Fortune Brawling" by Hunter S. Jones and Jennifer Theriot is a great short book that will leave you delighted and looking for more. It kind of reminded me of Thelma and Louise 🙂 I laugh out loud in many of the situations Fortune finds herself in. This is Nashville TN the capital of country and wild life for the entertainers. The book is very well written and the characters adorable. I loved each and every page of it and found it very hard to put the book down. I am a fan of both the authors and this book was amazing. It exceeded my expectations and I want to see more from them. What a great job!!!
The plot is unfolding in a very pleasant way and the reader will be eager to turn the pages. I know that this book is great for everyone who wants to spend time with a very entertaining book and for those who need excitement, thrill and laughter in their lives. You will not be disappointed. A book worth having for sure.
5.0 out of 5 stars Truly a hilarious story !!! Can't wait for more !!!
By Book Nook Nuts
Format:Kindle Edition|Verified Purchase
This is an amazing short story. If you enjoy movies like Thelma and Louise this book will be great for you.
We have Dallas Fortune she is a roadie musician for none other than Dolly P and she has gotten herself into one hell of a pickle. But not only did she get herself into trouble she brings her best friend and fellow musician into it.Dallas does something that requires a lawyers help.
Jodie well she gets help from two different directions.This is simply a feel good laugh your pants off book. It's a POV book and I like those.
I can not wait to see what happens next.
I recommend you pickup book 1 in this series but I guess they could be stand alones.
How To Purchase
Fortune Brawling and Fortune Calling by Hunter S Jones are available through our bookstore.
About The Author
Learn more about Hunter by reading her interview and connecting with her through her author page.
Additional Books by Hunter S Jones