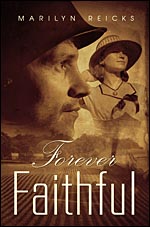 Forever Faithful
Christian, Historical Fiction
Tate Publishing
August 18, 2015
324
Forever Faithful is a historical Christian novel of Julia Sturloff's family life from 1940 to 1946, WWII years. Julia wonders if the U.S. enters the war, could both of her brothers go to war? Will Mark, her high school sweetheart enlist?
In 1921, a few years after World War I, Julia's father and mother married. Her parents lived through the turbulent twenties and endured the financial woes of the Great Depression in the thirties. Now in the early forties, they are facing the possibility of another World War. In the opening chapters, Mr. Sturloff is farming with horses. The family does not have electricity or indoor plumbing.
Mr. and Mrs. Sturloff, devout Catholic parents, make sure their family gets to mass every Sunday. When John befriends Betty, a Norwegian Lutheran, an only child and a young lady living in town, Julia is concerned for her brother. John is of German-Irish descent and lives on a farm. Are their backgrounds too dissimilar to sustain the love between them?
The Sturloff family is almost self-sufficient. They raise cattle, hogs, sheep, and chickens. In the fields, they harvest corn and grains. Their gardens produce vegetables and an orchard yields fruits.
Julia feels her heart will break if Mark and John go to war. The story relates to the Hitler's Nazis in Europe, the Luftwaffe, Normandy Landing, North Africa invasion into Italy and the Pacific theater At home the family endures shortages rationing, the pain and grief of a nation at war.
Julia takes normal training in high school. After graduation, she teaches all the grades in the local one room country school.
Mark's army unit participates in the invasion of Italy. War can transform people. He left just barely out of his teens and will come back a man. Julia wonders how he will change and if he will still care about their relationship?
John lives through the Normandy Landing but is wounded by an entrapped Nazi soldier in France. A buddy saves his life. An Iowa friend is killed in the war. When John comes home, brother Bobby enlists and later is shipped out to the Pacific theater.
Julia's mother kept family and farm financial records which show the fluctuation of farm prices from the beginning of her marriage through the time of the story. Mr. Sturloff compares prices of the Great Depression to those during WWII and after the war.
Mr. Sturloff shows in 1945 he received five times 1932 prices of $2.95 a hundred-weight for a hog. Income has increased but so have expenses. He points out his haircuts now cost 65ȼ, he used to pay 35ȼ.
Julia is concerned what her life and marriage will face in the future. Mrs. Sturloff has often told of the cultural changes after WWI. What will be the changes after WWII? Can she withstand anti-Christian influences? Can one living a simple farm life adjust to worldwide connections?
The story describes love relationships disrupted by war. How does the Sturloff family live a good and happy life during these years of turmoil? In the end, what does Forever Faithful mean to Julia?
Book Excerpt
Mark suggested, "Julia, let's have another musical session this afternoon."
Then he added, "In the evening, I would like to take you to themovies."
That evening, before the movie started, war clips were shown. The war news told how the United States, even though they are formally acting nonbelligerent, are actually aiding the British in their battle against Nazi Germany.
"Mark, it seems our country is dangerously tempting fate, and it looks like we might get into the war in Europe."
He quietly spoke back, "Yes, it does look serious."
The movie came on. It was a new movie, Sergeant York. John, in a barely audible voice, enlightened me. "The story is
supposed to be a true story. That should make it interesting."
As the story in the movie unfolded, we learned that the main character was a pacifist, yet he was drafted into WWI from
Tennessee. In the hillbilly country, he learned to be an excellent shot. His sharpshooter ability made him a war hero. Sergeant York was one of the most decorated American soldiers in World War I.
We discussed the movie on the way home. John seemed quite impressed with the war hero. He went on to say that with the
war heating up in Europe, it might not be long before the United States is drawn into the war. Mark stopped the car by my front gate. He leaned over, took my chin, and turned my face toward him. "Julia, what would you think if I enlist as soon as my dad's corn crop is harvested?"
I felt numb. I dreaded the thought of war. Now my best friend is telling me that he wants to enlist. "Why do you want to enlist?" I finally got out.
"I think we are going to be in war soon. I might as well enlist rather than wait to be drafted. I want to do my duty to protect
our country and to protect the people that I love."
"Oh, Mark, I would miss you so."
"Julia, you will be teaching next year. You want to teach. After a couple years, I will be coming home again. I hope then I will be able to start farming for myself. Julia, we are too young now to be too serious. Don't you see you will get your chance to teach and I will fulfill my duty to my God, family, and country?"
"Why do you say your duty is 'for God, family, and country'?"
"We live in a great nation that protects our religious freedom, our families, and our land."
I leaned toward Mark. "I am proud of you for wanting to protect all that we love so much. Maybe we won't get into war,
and you will not have to go into battle."
"Julia, we have to be realistic. War looks inevitable. You and I have a strong faith. We must believe that we can save our nation. We must believe that faith will see us through." He kissed me, and we said good night to each other.
That night sleep did not come easily. The movie, the war clips, and most of all Mark's words came again and again to my mind. The reality of the war clips was hard to accept as affecting me so far away in America. The movie made war look very dangerous. The killing of men in battle is a terrible tragedy. We are civilized people, yet we are acting in battle as if we are heartless brutes.
How can I let my best friend go away for weeks and maybe months? I will miss him so much. I love to sing and play music
with Mark. He takes me out to movies, dances, and for other fun activities. He teaches me many interesting things. We share good companionship. Dear God, I pray don't let this happen to me. I don't know if I can stand it. Dear God, give me strength to face the days ahead.
How To Purchase:
Forever Faithful is available for pre-order through Tate Publishing and additional retailers on August 18, 2015.
About The Author:
Learn more about Marilyn Reicks through her interview.