Once There Were Sad Songs eBook is available for $1.99 for the month of January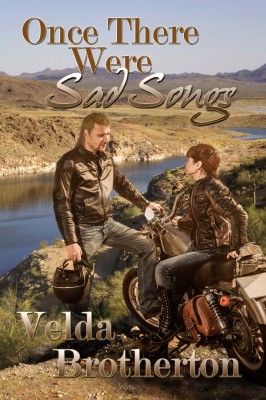 Once There Were Sad Songs
In the summer of 1985, Mary Elizabeth flees a fanatic husband and a cult-like life to search for a meaningful existence. Camped in Ouachita State Park she falls in with three scruffy motorcycle bums after one of them rescues her from some young hoodlums. That one, despite all his nightmare memories, teaches her the true meaning of love and changes her life forever.
About the Book
From the Author
I wrote this book when it takes place, back in the 1980s. Two things inspired the book. The first was a camping trip with my husband to the Ouachita Mountains in Arkansas and camping on the lake shore there. I began to wonder what it would be like for a woman to leave her life and travel around camping in spots like that. The idea just sat there for a long while.
Then one day I was listening to the radio and a song played, and I'm sorry I've forgotten who recorded it, He's Just An Old Hippie. Some of the lyrics spoke to me. With what was going on in the news in those days about the problems Vietnam vets were having readjusting to life after their return from that terrible war, I put it all together and created this tale of two veterans and a younger man trying to live vicariously through them. Steven contemplates death at every turn, Lefty pushes him in that direction and Shadow goes along for the ride.
Until they meet Mary Elizabeth, an escapee from a boring strict cult like life with a husband who expects nothing from her but strict obedience.
This meeting changes them all in drastic ways and their adventures go from dangerous to sexual to compassionate.
The manuscript lay around until my current publisher of romance, The Wild Rose Press announced they wanted other genres, including vintage tales from the 70s and 80s. I submitted it and my editor fell in love with the story. At last I could share with the world this hopeful love story. Not only of the love between Mary Elizabeth and Steven, but that between the three men who almost destroyed each other in their blind recklessness.
From the Inside Flap
On the off chance that a woman was drowning,
he ran, stripping off the sweaty T-shirt, kicking free of
the rubber sandals, and diving into the water. Like one
of those damned lifeguards you saw on TV. Hell, he
might look almost like he knew what he was doing.
Reaching the spot where she'd sunk out of sight, he
nosed under, feet kicking toward the dusky sky. In the
murky water, scarcely lit by the dying sun, shades of a
muted blue skirt billowed like a parachute. A halo of
hair, long and wavy, undulated above pale, indistinct
features. Long, powerful strokes took him closer. He
peered into her face. Hanging upright, eyes closed so
her long lashes curled on her cheeks, she didn't fight or
kick. So eerily beautiful. So peaceful. For a moment the
sight of her set his heart pounding with anticipation and
desire, like a dream in which he could indulge in sexual
lust without anyone getting hurt.
Unreal. His mind flashed the message, and he
thought of turning away, leaving her to whatever insane
desires possessed her. For sure he'd be pissed if
someone mucked up his attempt to do away with
himself. She had the right, didn't she? Didn't everyone?
Besides, maybe she was just a figment of his
imagination. He let out bubbles of air, studied her a bit
longer.
A shudder rode over him, the brackish taste and
gory smell of a long-ago, bloody battlefield thick in his
nose and mouth, until he feared sucking in the water.