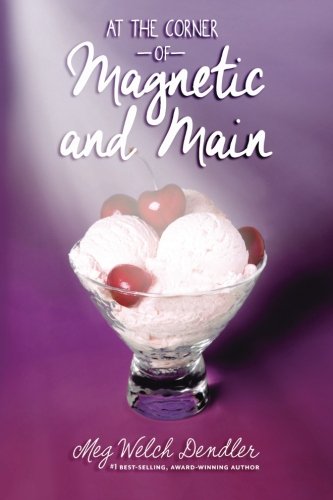 At the Corner of Magnetic and Main
Women's Fiction
Pen-L Publishing
It's hard to get on with your life when you're already dead.
Penny had been stuck in the same diner for decades—ever since she died in 1952. Her diner was comfortable and safe. Serving ice cream to those who dropped in on their way to the next level of existence, she helped to ease their transition into The Light, the one place she can't go. Her afterlife was perfect.
But when the ridiculously handsome, bad boy biker Jake Thatcher shows up and becomes stuck as well, Penny rediscovers feelings that she thought had been buried with her body.
Life is still life, and love is still love. But was her existence really perfect, or was it something else entirely?
Book Excerpt
Life never ceases to be life, just as love never ceases to be love, and love is eternally at the heart of what every immortal soul yearns for. The desire for love, the wrenching yearning for it, continues long past the
grave. Penny had lost sight of those hopes and dreams over the years. Today, they would crash back into her life with a force that could not be ignored.
As Jake's motorcycle climbed steep hills and roared down the other sides, he knew it had been worth skipping work that day to take a drive. He reveled in the carelessness and freedom of the young, handsome, and uncommitted. His shaggy, brown hair blew in the breeze, and he stretched his fingers in his new, black riding gloves, working out the kinks in the tough fabric. There had never been a more glorious spring evening in the Ozark Mountains. Jake was sure of it.
The winter chill had given way to the first hints of warmth in the air. As the sun set, the sky blazed with orange-lit clouds. Violent thunder and lightning the night before had left the air fresh and clean and full
of the promise of a new season. Damp, brown pine needles and soggy piles of decomposing leaves clung to the narrow shoulders of the road, not quite ready to admit that their time was done.
On this early spring day, Jake had toured all along Highway 62 through scenic biker routes, zipping past the centuries-old rock outcroppings that were the primary landmarks along the snakelike Arkansas mountain roads. He had just passed the creepy, giant ceramic bunny that sat—always watching—in a roadside front yard. It was an odd signpost, but it meant he was only thirty minutes from Eureka
Springs. Even if it wasn't the official Pig Trail, an outstanding piece of highway lay before him.
Grown-up logic said that he should turn back to Rogers and head home, but the lure of the winding road ahead was a siren song he couldn't resist. Answering the call to adventure was easy to justify. He could simply extend the fun by spending the night at one of the easy-on-the-wallet biker hotels in the tiny, tourist town. There should be some good company and rowdy parties tonight with beer flowing
freely. He had nothing to hurry home for and could always head back early in the morning. No harm, no foul.
That logic of the wild and free gave him the chance to take another run along his favorite stretch of road just ahead—daredevil, hairpin turns on a rocky mountainside where guardrails were scarce. The
trick was to know when to brake, just at the last minute, to slide around each bend.
Barely budding trees overhung both sides of the two-lane road, their still-bare branches hovering expectantly around every curve. Jake leaned into the turns expertly, weaving within inches of the yellow
center line as oncoming cars swerved away from his path. Dozens of bikers passed behind them, giving him a low thumbs-up or an imaginary high-five as they passed. He knew those comrades had just
finished the epic turns and hillsides that were waiting for him. Blasting past the bright-pink warning of the "BIKER BEWARE" sign, he revved the engine and settled down on the seat in anticipation.
The next thing he knew, Jake was standing in an old-fashioned diner, staring at a bowl of ice cream on the bright-red counter in front of him. Confused, he looked up and noticed a brunette young woman
standing on the other side of the counter. She had the most amazing green eyes he'd ever seen and was wearing what must have been a 1950s-themed uniform for the diner: her long, dark hair up high in
a ponytail, a big poofed-up light-blue skirt nearly down to her ankles, a spotless white button-up blouse, and perfectly shined saddle shoes.
She smiled at him, calmly, like it was just any old day of the week.
How To Purchase
You can purchase At the Corner of Magnetic and Main  through our bookstore.
About The Author