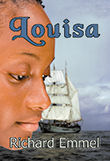 Louisa
African American, Historical, Middle Grade
2010
Loosely based on the life of Black American poet, Phillis Wheatley, Louisa is a riveting story of how a little African girl was captured from her happy home by the Senegal River and sold into slavery in colonial America. How she was nurtured, educated, and rose to international celebrity as an authoress, before ultimately gaining her freedom, is a truly inspiring journey for readers of all ages.


Having been captured from her beloved family and homeland as a little girl, then sold into slavery in colonial America, Farih Morowa (renamed Louisa Wheatley by her owners), daughter of Bewnu, Chief of the Fulani, endured great pain, sorrow, and loneliness. How she landed in a mostly kind, Bostonian household, learned to speak, read, and write English, when slaves were generally forbidden literacy, and how she became an internationally acclaimed poetess before ultimately obtaining her freedom, is a truly touching and inspiring story. Her celebrity also gains her unprecedented access to some of the most powerful people of her time, including George Washington, John Adams, Benjamin Franklin, and John Hancock.
Book Excerpt
Chapter 6—Becoming a Woman
Ages 13—18
It seemed like just yesterday I celebrated my seventh birthday. I remember the talk that led to my being declared seven. Because I was so small, the
Wheatleys wanted to make me younger than seven. I did not talk well and was a slave. I stood silent as seven became my given age. Using that first birthday as a benchmark today, April 15, 1766, I can say I am thirteen. As of today, I have served the Wheatley family for six years, but I also have been served, because I got to use their library, and they allowed me to write.
I was only thirteen, but often left by myself to watch over the house. The Wheatleys thought that the slaves might steal some of their valuables while they were away. I sensed trouble the minute I opened the door for Tom Carlyle, a friend of Nat's, but instead of telling Tom that Nat was not at home, I allowed—perhaps even encouraged— him to enter and sit in the parlor.
I wanted to be sociable, but I knew I could not socialize with Tom. Slaves did not associate with white people. Yet, something inside of me said Tom was a young man not much older than I, and nothing would be wrong if we talked. I longed to talk with him or any young man for that matter, so there I stood, not knowing what to do or say and wishing I had told Tom that the Wheatleys were not home.
Tom saw that we were alone, and he knew the Wheatleys would not return until tomorrow. Then he told me he had hidden his gold cuff links in the house during his visit the previous night. He said that unless I gave him the key to the silver cabinet, he would accuse me of stealing the cuff links and the silver pitcher he wanted.
He told me that if I cooperated with him, he would give me a forty-dollar bill, an amount that seemed like a small fortune. Mr. Revere made the silver pitcher for my mistress, and I had never seen another quite as beautiful. I could understand why Tom would do anything to get it. Something
I call my "knower" was screaming inside me not to take part in this evil scheme. I also knew that any slave accused of stealing was usually hanged without a trial.
Tom thought he had set a perfect trap and would emerge from the Wheatley home with the prized silver pitcher. I faced the ugly reality of trying to explain its disappearance. Tom told me that the Wheatleys were so rich that they would just accept its loss and wouldn't suspect their favorite slave of stealing. He never expected what happened next.
 Publisher's Note
If you are a middle school student or the parent of a middle school student, please recommend Louisa to your teacher or school as a resource for study. If you are an educator for students in the upper elementary and middle school grades, we recommend you obtain the companion Resource Book for Louisa: A Guide for Teachers to use with your study of Louisa in your classes. It will provide an excellent resource for the study of such topics as slavery in colonial America, human rights and civil rights, religious influences on early America, literature and literacy in early America, and more.
The Resource Book for Louisa is co-authored by the author of Louisa, Richard Emmel, who is a 37 year veteran educator as both middle school teacher and former elementary school principal in Little Rock, Arkansas, and by Ms. Gena McReynolds, who is a middle school teacher in Bellevue, Washington. You may order directly from the publisher's web site at www.parsonplacepress.com/store and receive a special volume discount when you order Louisa in paperback for each of your students. You may direct any questions you have to the publisher at info@parsonplacepress.com, or you may visit the publisher's web site at www.parsonplacepress.com for more details.
The Buzz
Though targeted for middle-schoolers, Louisa is a truly inspiring story for people of all ages. Its author, Richard Emmel, has spent more than 40 years in public education and certainly knows how to instruct children using the written word. You'll come away from this story with an informed understanding of what it was like to live during the colonial American period. Louisa's phenomenal accomplishments in her life will inspire you to strive for your own lofty goals in life. Her interaction with such famous American heroes as George Washington, John Hancock, and John Adams will both enlighten and encourage you. Get ready for a truly heartwarming experience as you read this intriguing story.  5 -Star review by Michael L. White, Amazon
This is a very educational book which gives a lot of insight into the lives of slaves back in the time of slavery. I always new that the slaves were terribly mistreated but I didn't think it was so bad. This would make an excellent resource for a classroom or home school family. This is a must read book for Black History month. 5 -Star review by K. Vetrano, Amazon
How To Purchase:
Louisa is available through our bookstore.
About the Author: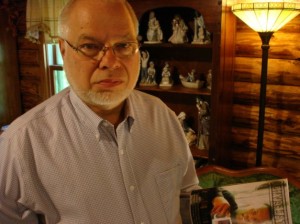 Richard Emmel earned a Bachelor of Science degree from the University of Arkansas at Little Rock, a Master of Science in Education from the University of Central Arkansas, and a Doctor of Education from the University of Mississippi. He holds Arkansas certification in the areas of science, mathematics, social studies, reading, and administration. His education career began in 1970 as an elementary principal, a position he enjoyed for ten years. After serving as an administrator, he became a classroom teacher at the junior high and middle school levels. After 42 years as an educator, he retired in May 2012. On November 26, 2012, Sharon and Richard will celebrate 47 years of marriage. Their marriage produced three sons. Their youngest son, Andrew died from cancer on April 15, 1993. A heart condition took the life of their first grandchild, Sharon. Because of his experience with catastrophic medical situations, Richard established the Baby Sharon Fund in 2003. The fund has awarded over $60,000 to help families with very sick children. He published his first book, Louisa, in 2007.