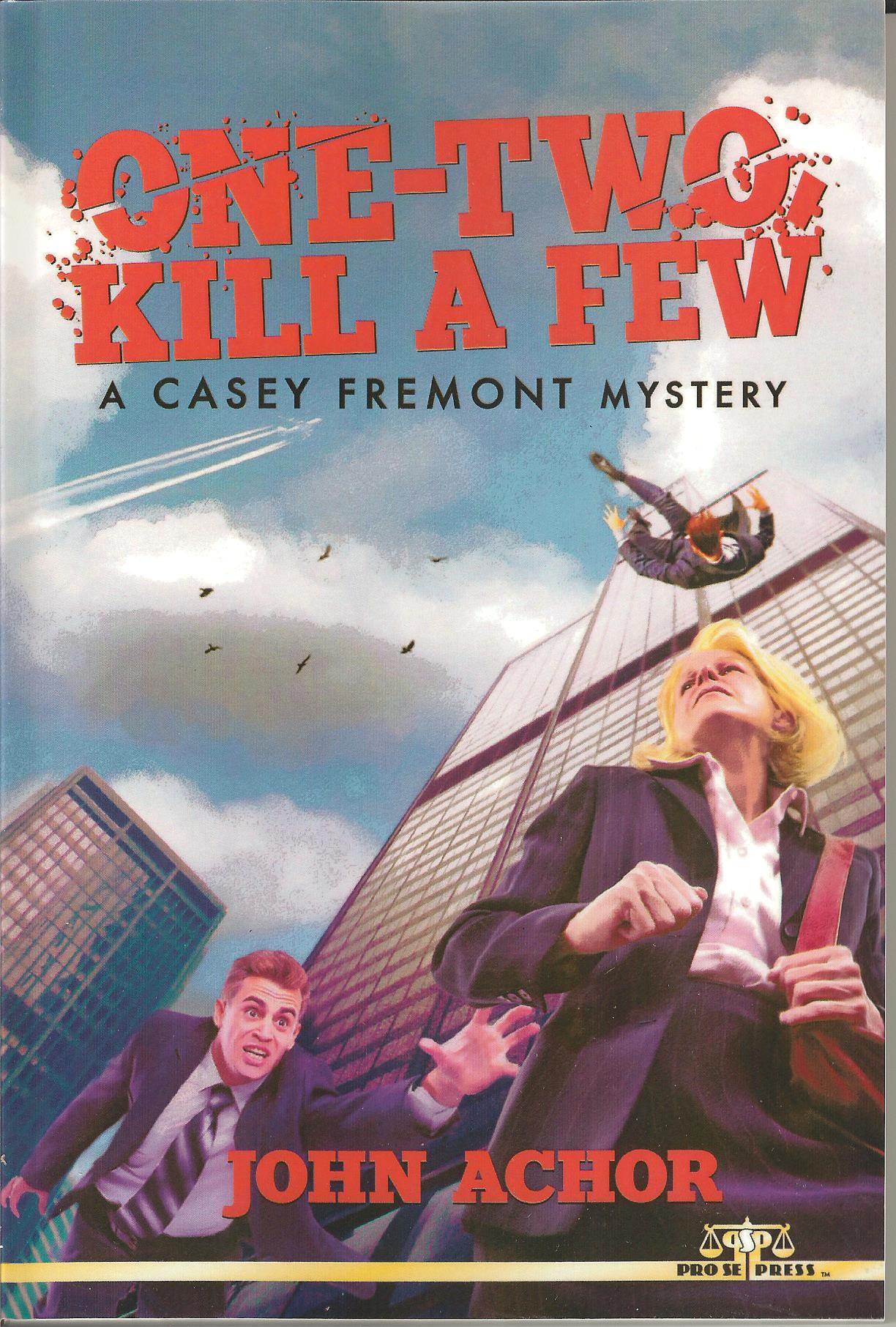 One, Two - Kill a Few
Casey Fremont Mystery
Mystery, Women Sleuths
Pro Se Productions
Casey Fremont is on her way to interview for a temp job when a falling body nearly lands on her. Three days later, a second man, this one from her own office, dies in a similar manner and Casey is drawn into the intrigue. She confirms her suspicions, but one of her friends ends up in the hands of kidnappers. Casey must solve the mystery before she becomes the third body to go over the railing.
Book Excerpt
This morning started out so well, I thought I was on a roll. I hoped the rest of the day would be as great. It wasn't, but how could I know it would be raining bodies before noon.
I put on one of my best business suits. It's a dark, dark gray pin stripe. The jacket is double-breasted and the slit skirt doesn't quite make it down to mid-thigh. I've never been turned down during an interview, but it never hurts to flash a bit of leg at a male interviewer. It's fun to watch where their eyes wander during the discussion. A lot of men have trouble looking a woman in the eye. More often they are gazing at the assets a good bit south of the face.
I was heading for Little Rock's Midtown Atrium Towers Building, a new expanse of glass and steel in the downtown area. In keeping with the new architecture, an atrium reaches to the top between two buildings. I would be talking to a Wayne Harmon at Cyber-Technology, a computer and internet consulting firm.
At quarter past nine, fifteen minutes before my appointment, I walked through the huge glass doors, which opened for me with an automatic whoosh. The main floor entrance was through a curved glass wall going up all twelve floors. A similar wall of glass faced me from the rear of the lobby and the sign over the far doorway read: Parking Garage. I glanced around the lobby at the large planter areas replete with foliage and flowers. There were even a couple of imported palm trees; far from native to Arkansas. Buildings stretched upward to my left and to my right. The structure smelled like a new building. The faint but pungent aroma left from new carpet glued to the floor drifted past me. I checked the directory and learned Cyber-Technology was in Tower B, the one on the right.
The elevators were glass and brass clinging to the walls of the atrium.
It would be an interesting ride — I'm not afraid of heights, but I don't like looking straight down at nothing between me and a sudden stop at the bottom. I was almost across the lobby when I heard the shout from behind me.
The Buzz
John Achor draws the audience into the mystery immediately with "raining bodies". The reader's curosity is hooked as the story progresses with the addition of friends to help solve the mystery. A growing romance with the police detective holds the reader's attention as the killers are tracked through the evolving story. I enjoyed every page and would recommend it to all who read mysteries. I'm looking forward to more Casey Fremont books. Thank you, Mr. Achor.~ 5-Star Review, Rita Dortch, Amazon
I've been a fan of mystery stories for 50 years, mostly by authors such as Arthur Conan Doyle (Sherlock Holmes) and Agatha Christie (Hercule Poirot, Miss Marple). Almost all of their stories took place in England back in the late 1800's and early to mid 1900's. So I really wondered how I would react to John Achor's 'One, Two, Kill a few' featuring a female sleuth and in the modern day setting of Little Rock, Arkansas. I was to wonder no more as I approached the end of chapter 1.
This was a refreshing twist to the old mysteries I had read many times over and was used to. It was interesting seeing Casey Freemont get mixed up with some murders and try to solve them with the help of her 'accomplice' friends. As she gets closer to the truth she proves to have more guts and courage than would expect from a gal who's idle thoughts are mainly directed to finding ways to get a man in bed with her. Romance novel fans, there's something in the book for you too!
John Achor's first attempt at a mystery novel is a huge success in my mind. And as his popularity grows I recommend you buy this first book at the bargain basement price of $2.99 (A lot of 'bang' for the buck). The price will surely go up if he cranks out any more Casey Freemont mysteries as good as this one. ~5-Star Review, Bob Betts, Amazon
How To Purchase
One, Two – Kill a Few is available through our bookstore.
About The Author
You can learn more about John Achor through his interview and connect with him on his author page.