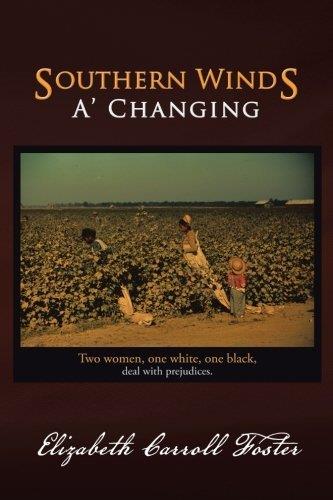 Southern Winds A' Changing
Historical Fiction
In this historical novel, an independent Quaker school marm attempts to overcome racial inequity in her small community, inextricably intertwining her life with an unlikely friend who proves that peace is attainable even in the darkest of times.
Book Excerpt
Suddenly, angry shouts interrupted her (Allise) thoughts. She went … to the living room door and heard Edward R. Murrow say, "The National Emergency Council released its findings concerning the South."
Rooted …, Allise saw her husband's face tighten and flush … it read like a high fever registered on a thermometer. "Where in God's name does he get off saying the South is the nation's number one economic problem? Bunch a damn Yankees and New Dealers thinking up lies to tell about us! Never say anything good about the South."
Disgust flooded her mind. Throwing a surreptitious look in Quent's direction, she returned to the kitchen, with him and Sam behind her. Seated at the supper table, Sam said, "Quent, you ought to know, I'm looking for—"
"Listen, Sam, I don't give a rat's rear end about that farm. Daddy isn't here anymore to push me. … I want no part of the farm. It's yours." In his forceful way, he added, "I'll keep books, handle money, pay bills, but don't talk farming … If you go bankrupt … that's your problem."
An awkward moment played between them. Then Sam stood with clenched fists. "Gawd damn you, Quent!"
Her husband rose up, and Allise rushed between them. … "Get out! Go beat each other until you are rid of whatever drives such hatefulness. Our son is watching …"
Sam sank back onto the chair. "Come here, Petey."
Quent … grabbed his hat, and slammed the door … Allise wanted to take Sam's hands and tell him that his brother was not himself. She knew she must not.
Sam … pulled the pale-faced, puckered child between his legs, … She watched his protective gesture … "Darling," she said to Peter, "your daddy and Uncle Sam love you. Daddy isn't himself tonight. He'll return soon." She held out her arms …
Sam stood. … See you soon, Petey. Allise."
… she wondered how Sam felt about Quent giving up control … In the settlement of Daddy Joe's estate, Joe's Market had gone to Quent and the farm to Sam. They had divided the money … and his will stipulated the brothers were to share profits if the Filbert Street home sold. Sam was to live there until such a time.
Allise thought … Maybe if Quent is free of the farm, he will spend less time at Rooster's. Since learning he went there, she had heard of other church-going men who gambled at the dive.
At times, Quent's steel-blue eyes, veiled and insensitive, gazed into a place that closed her out. How can my heart feel heavy when it's empty of his love?
The Buzz
5.0 out of 5 stars
By Barbara D. Chaplik, Amazon
Southern Winds A' Changing This is a very timely book with scholarly research on the Civil Rights activities of the 50s and 60s. It is factual and gives enough background for even a Yankee to be able to transport herself to the South. Gentle understanding and a critical eye regarding the segregation of the south. This author, Elizabeth Foster, is very talented and brings social issues to the reading public, clothed in an interesting and entertaining novel. Excellent character development. A thoroughly enjoyable novel. I'm ordering two more copies for gifts.
5.0 out of 5 stars
By Linda Lou, Amazon
Although Southern Winds A Changing is not the type of book I am normally drawn to read, when it was being discussed by a group of my friends I decided to purchase it. To say I was more than pleasantly surprised is an understatement. It is well researched, very well written and definitely holds your interest.
I found it a particularly timely novel and lends a touch of understanding and insight to many of our current problems.
5.0 out of 5 stars
By Janet Enders, Amazon
I truly enjoyed reading this book because it historically describes the racism, religion, and social situation in the South, especially in provincial areas, when racial inequalities and tensions were very evident. The two women in the story have a special bonding and strong friendship that endure through years of conflicts with society and with their own family members. I highly recommend reading this book.
How To Purchase
Southern Winds A' Changing by Elizabeth Carroll Foster is available through our bookstore.
About the Author
You can learn more about and connect with Elizabeth Carroll Foster on her author page.