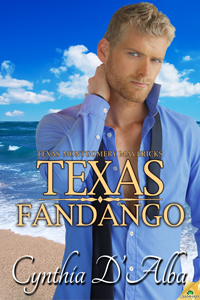 Texas Fandango
Texas Montgomery Mavericks
Contemporary Romance
February 2014
Book Excerpt
"And you're not going to make me sleep with you?"
He shrugged and made himself maintain eye contact when what he wanted to do was look anywhere but at her. Damn. Her voice was a little tight and high with that last question. Now what had he done wrong? He didn't think he'd ever understand women.
"Right." He dragged the word out. "No obligation."
She drained her beer. The empty bottle dangled from the tips of her fingers. The side of her cheek sucked as she rolled it between her teeth.
"So no sex. That's what you're saying? I just want to make sure there are no misunderstandings this time."
He nodded. "Sure."
She echoed his nod and then set her bottle on the floor. "Well then, in that case, no."
His head popped back. "What?"
Leaning toward him, she said, "No sex, no trip."
This time, he swallowed hard. Crossed and uncrossed his legs. Adjusted his position on the sofa. "Explain exactly what you're saying. Use small words and short sentences. I don't think my mind is hearing correctly this afternoon."
"Here's the deal, Doc. I want a vacation with the five S's. Sand. Surf. Sun. Spa. And sex." She leaned back in her chair. "And not necessarily in that order."
"So you want to sleep with me?"
"I want a two-week torrid, scorching-hot affair. No holds barred. Then, we walk away. No harm. No foul. Those are my terms." She stared into his eyes. "Take it or leave it."
The Buzz
"Wow, this is not your ordinary cowboy tale. What a great read. Totally not what I was expecting, but wow was I pleasantly surprised by this refreshing read. Yet again, a read by Cynthia D'Alba has left a lasting impression and I look forward to much more in the future." ~ Kimberly from Book-Obsessed Chicks
"Cynthia D'Alba writes characters are that are fun and the sex scenes that burn up the page!" ~ Lisa
"I love this series and I can't get enough of it….the chemistry…was so hot I thought my ereader was going to go up in flames. I highly recommend this series and for you to read them in order. You won't regret it." ~ Lori Meehan
"What a heck of a read, wow couldn't stop reading it! It is a must read is all I'm gonna say." ~Wendy Fedler



How To Purchase:
You can purchase Texas Fandango, Book 3 in the Texas Montgomery Mavericks series on
Amazon

 About the Author: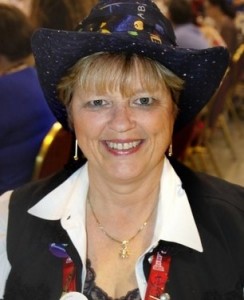 I was born and raised in a small Arkansas town. After being gone for a number of years, I'm thrilled to be making my home back in Arkansas living in a vine-covered cottage on the banks of an eight-thousand acre lake. I started writing on a challenge from my husband in 2006 and discovered having imaginary sex with lots of hunky men was fun.
I love love love to hear from readers and there are lots of ways to find me. Online, you can find me most days at my website or my group blog.