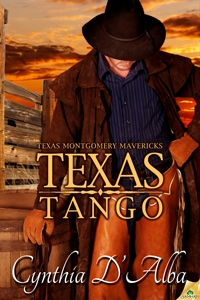 Texas Tango
Texas Montgomery Mavericks
Contemporary Romance
November 5, 2013
Their wedding might be fake, but there's no faking the mutual attraction.
Texas Montgomery Mavericks, Book 2
Dr. Caroline Graham is happy with her nomadic lifestyle fulfilling short-term medical contracts. No emotional commitments, no disappointments. She's always the one to walk away, never the one left behind.
But now her great-uncle is gone and her grandmother is on her deathbed, more concerned about Caroline's lack of a husband than her own demise. What's the harm in a little white lie? If a wedding will give her grandmother peace, then a wedding she shall have.
Travis Montgomery has one dream left—to build the ranch he and his wife planned before he lost her to cancer. There's just one thing standing between him and the last bit of acreage he needs—a last living heir who has one traveling foot out the door…and an unusual request that challenges his determination to never again place his heart at risk.
The land he wants in exchange for a faux marriage. Everyone wins. Until things start to snowball…and the hearts they stand to lose are their own.
Warning: This book contains a tortured widower who doesn't want a wife and an independent doctor who doesn't want a husband. Hot stuff between the sheets and failed efforts to avoid emotional involvements.
Book Excerpt
The men moved in to finish the job of lowering the coffin into the ground and replacing the dirt.
"Are you sure we have to meet today?" Caroline asked as she and KC stepped away to give the gravediggers room to work. "Reading Uncle Angus's will so soon after his funeral seems so…I don't know…ghoulish."
KC nodded. "That was his request, but it doesn't have to be right this second. Take a break, go home and get some rest. You can come to my office later this afternoon if that works better for you."
She shook her head. "No, let's just get it done."
"Okay then. I'll meet you at the office."
KC turned, her leather-tooled cowboy boots grinding in the loose gravel near the grave site, her long skirt whipping around her ankles as she marched toward her battered truck.
After blowing one last kiss toward the grave of her late great-uncle who'd welcomed her with open arms, Caroline left the cemetery. The entire Montgomery clan stood in a cluster in the parking lot. She returned their waves as she drove past. Her stomach clenched when Travis Montgomery removed his hat and dipped his head toward her.

The Buzz
I enjoyed this book so much. Cynthia D'Alba has woven a wonderful story about two characters that are meant to be together. Travis is one of the sexiest cowboys out there and very family oriented. Caroline is strong and prides herself on standing on her own two feet and not leaning on anyone. She will do anything to make dying a Grandmother happy and comes up with a outlandish scheme. That just might backfire on her. I loved everyone of the secondary characters and I can't wait for the next book in this series. 4.5-Star Review, Lori Meehan, Goodreads
Purchase the Book:
All the books in the Texas Montgomery Mavericks series, including Texas Tango can be purchased through our bookstore.
About the Author: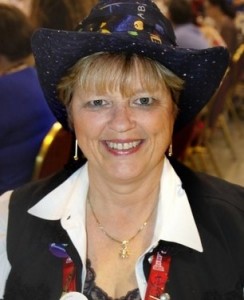 Cynthia D'Alba was born and raised in a small Arkansas town. After being gone for a number of years, she's thrilled to be making her home back in Arkansas living in a vine-covered cottage on the banks of an eight-thousand acre lake. When she's not reading or writing or plotting, she's doorman for her two dogs, cook, housekeeper and chief bottle washer for her husband and slave to a noisy, messy parrot. She loves to chat online with friends and fans.
Twitter | Goodreads | Facebook | Website



email her at cynthia@cynthiadalba.com
To send her snail mail, write to:
Cynthia D'Alba
PO Box 2116
Hot Springs, AR 71914