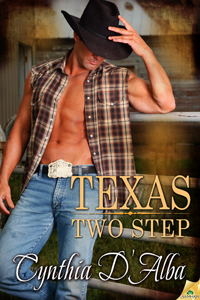 Texas Two Step
Texas Montgomery Mavericks
Contemporary Romance
February 2012
Their love never died, but her secrets could break his trust beyond repair.
Texas Montgomery Mavericks, Book 1
After six years and too much self-recrimination, rancher Mitch Landry is ready to admit he was wrong. He'd loved Olivia Montgomery but commitment wasn't high on his list back then. That was his first mistake. He's just divorced his second, and he's set to do whatever it takes to convince Olivia to give him another try.
Through hard work, determination and more than a few tears, Olivia survived the break-up with Mitch. She's rebuilt her life around her business and the son she loves more than life itself. She's not proud of the mistakes she's made--particularly the secrets she's kept--but when life hands you manure, you use it to make something better of yourself...lest you get stuck in it.
At a hot, muggy Dallas wedding, they reconnect. Olivia's first instinct is to play it cool, but after one devastating kiss things flare out of control, real fast. Maybe a quick roll in the hay will get him out of her system once and for all. Funny thing about hay though, once it's tangled in your hair, getting it out risks revealing things that were never meant to see the light of day.
Warning: Contains hot sex, a vindictive ex-wife, and hot chocolate chip cookies.
Book Excerpt
The woman stood on tiptoe in the baggage-claim area of the Dallas/Fort Worth airport looking for all the world like someone who'd been sent to collect the devil. Mitch Landry had expected Wes or one of the other groomsmen to come for him. Instead, his gaze found a statuesque blonde arching up on her toes, a white T-shirt with Jim's Gym in black script stretched across her lushly curved breasts and long tanned legs extending from tight denim shorts. His heart stumbled then roared into a gallop.
Blood rushed from his brain to below his waist. His nostrils flared in a deep breath, as though he could smell her unique fragrance across the crowded lobby.
She hadn't looked in his direction yet, which gave him an unfettered opportunity to study her without having to camouflage his reactions.
No make-up covered her creamy rose complexion, not that she needed any. Not then and not now. No eye shadow was required to bring out the deep blue of her eyes. Nor did her mouth need any enhancement. Her lips radiated a natural pink, although the bottom one grew redder as her upper teeth gnawed on it.
Six years had passed since he'd seen Olivia Montgomery, but he'd swear she was more beautiful today. She had an appeal that came only with age and maturity. A smile edged onto his mouth. He was surprised—pleasantly surprised—to admit how glad he was to see her.
He watched as her glare bounced around the room, searching faces until it fell on him. As a look of resignation flashed across her face, she frowned.
His smile faded. Not exactly the reaction he'd hoped for.
The Buzz

Texas Two Step kept me on an emotional roller coaster, there were moments I wanted Mitch and Olivia together and moments I wanted her to kick him in his junk. Olivia is a strong women, who right or wrong, made some tough decisions and is now paying the price for them. Mitch is a determined man, who bless his sexy lil' soul, had to admit he was wrong. He finally sees the light and destroys his douchebag crown for good and ends up being a man dreams are made of. 5 -Star review by Guilty Pleasures, Goodreads

Why Texas Two Step is a Red Hot Read: I'm notoriously picky about romances set in Texas, as I'm sure anyone feels about their home state. To my thought, very few writers who aren't from Texas (and some who are) portray Texas as anything but a stereotype. In Texas Two Step, Cynthia D'Alba's hero Mitch is a rancher, but he's more than the stereotypical cowboy.
Six years ago, his love affair with Olivia circled the drain because of Mitch's misguided loyalty to his brother. Now, he wants Olivia back. But it's going to take a lot more than a simple "I'm sorry" to win her over because all those years ago he left Olivia with something more than just a broken heart. Ms. D'Alba does a fabulous job with an emotionally charged reunion story and the does justice to both big-city and small-town Texas. 5 -Star review by Kelsey Browning, Goodreads
How To Purchase:
Texas Two Step, book one in the Texas Montgomery Mavericks series can be purchased through our bookstore.
About the Author: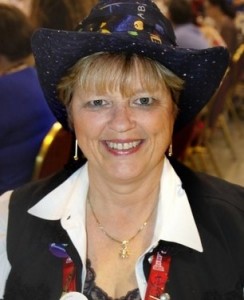 I was born and raised in a small Arkansas town. After being gone for a number of years, I'm thrilled to be making my home back in Arkansas living in a vine-covered cottage on the banks of an eight-thousand acre lake. I started writing on a challenge from my husband in 2006 and discovered having imaginary sex with lots of hunky men was fun.
I love love love to hear from readers and there are lots of ways to find me. Online, you can find me most days at my website or my group blog.