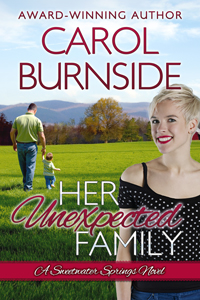 Her Unexpected Family
Sweetwater Springs
Contemporary Romance
Her Unexpected family is the second contemporary romance novel in the Sweetwater Springs series which contains sensual romance against a backdrop of family and community.
Former bad boy, Travis Baxter, has a reputation to live down, a job to do fast, and one woman he can't seem to avoid. He's starting a 24/7 renovation flip on Claire's beauty salon when a surprise appears at his door . . . a three-year-old son. Immediate custody brings Travis a major problem. He needs a nanny.
Claire Larkin glimpsed a rare and appealing side of Travis during one ill-fated date, but her personal policy is no involvement, no strings. Not even a pet until she's pronounced cancer free. With free time until her salon is done, Claire pitches in to help the grieving little boy and stunned father. Despite her best efforts to resist, she and Travis succumb to their attraction.
When it appears Claire's cancer has returned, she pulls away and Travis is faced with a seemingly impossible decision. Protect his son from another loss or support the woman he's come to love?
Warning: This book contains hair salon gossip, hunky construction workers, sex in the shower, sudden humor and it might tempt you to gorge on pizza and brownies. Even so, at certain points the reader may wish to keep tissues handy.
Book Excerpt
"Travis!"
Holy smokes. Purple hair.
Seeing Claire again struck him like a hard fist in his gut. Her head was all he could see protruding from a narrow doorway into a short hall. Her short hair defied gravity, sticking out every which way. Except for the often-altered hair color, she hadn't changed one glorious iota.
"LouAnne had to step out." Claire still mimicked a curious turtle.
He glanced at the rapt gazes. Oh, man. Face time with her was guaranteed to be awkward, but he'd be damned if he'd entertain an audience. "Could I speak to you a moment? In private."
Two heads swiveled between them, eavesdropping, and he cursed silently. The story would be all over town tomorrow, curiously picked at by the Busy Biddies Brigade like hens over a mound of feed. Lord only knew what spin they'd put on it.
"Uh . . . sure. Come on back."
"Ladies." He acknowledged the customers as befitted his Southern upbringing and joined Claire in the small room, not much bigger than a closet.
She shut the door.
Immediately, the miniscule place grew warmer. He feigned indifference to her nearness by checking out the tiny area. Shallow shelving lined one wall, overflowing with bottles and tubes. The opposite wall held a small counter and cabinets, a double sink and more shelves.
"What are you doing here, Travis? I thought we agreed not to see each other again." She whispered through lips tight with tension.
He counted to ten. They hadn't agreed on anything. She'd ended things without giving him a real chance. "Don't flatter yourself. I'm here to work up an estimate on remodeling the shop."
"I thought you were a big shot. Why not send a flunky?" she muttered. Turning to the small counter, she stirred white liquid into a small bowl of powder. A noxious odor assailed his nostrils.
"Augh! That's nasty." He stepped away from the goopy concoction turning reddish-brown, and backed into overstocked shelves. Beauty products rained all around him.
Grabbing wildly, he grazed Claire's thigh while catching a bottle. He offered it to her, trying to ignore memories of the last time they'd been this close. And alone.
Eight months ago. The night of their first and only date.
He remembered it quite well. Claire had worn a soft, two-piece dress with a flirty lace skirt that fell into points, allowing him tantalizing glimpses of surprisingly shapely legs, considering her slender figure. Today's outfit, a black and white geometric-patterned mini dress with fishnet stockings, was far from that. And her hair had been a soft pink.
All the signals she'd exuded indicated she was amenable to the idea of taking their date to a more intimate level. To this day he couldn't say what made him step away from her kisses to suggest more dates the next week, but she'd been furious. Acted like he'd insulted her.
The woman was a nut job. Since when was getting to know your date better a crime?
The Buzz
"I laughed at the humor, cried with the heartbreaking parts and sympathized with their plight as they tried to find their lasting love. Well written characters meshed with a well developed plot for true reading pleasure. Real page turner. I look forward happily to the next book in the series." – Shirley Buchanan, Romance Book Haven  5/5 star review
"I recommend this read for readers that don't mind pulling out the tissues and looking like a fool when crying over a book and if you don't mind laughing out load in the middle of nowhere whilst reading." — Desere 4/5 stars 
"Ms Burnside's books are always fun, always carefully crafted to maintain the readers interest and keep the pages turning." – S.Weeks, 5/5 star review, Amazon
"Be prepared to have tissues at hand. This is one roller-coaster of an emotional story. It is tender, heart-warming and at times heart-breaking. But I loved it." – Laura 5/5 stars
How To Purchase:
Her Unexpected Family Book 2 in the Sweetwater Springs series is available through our bookstore.
About The Author:
Carol Burnside is an award-winning author of the Sweetwater Springs series of contemporary romance with serious sizzle. Her personal second-chance-at-love story resulted in a marriage to her high school sweetheart of thirty-plus years. Also published in short stories, Carol's novel length manuscripts have placed in numerous contests and won five, including the prestigious Maggie Award for Excellence.
Writing as Annie Rayburn, she produces soft sci-fi and lite paranormal erotic romances which have been favorably received. Talk about cross-genre! Enjoy excerpts, review snippits, and more about her sexy Crainesian characters on her website  or connect with her on www.PetitFoursAndHotTamales.com.


Website | Facebook | Twitter | Newsletter | Goodreads | Pinterest