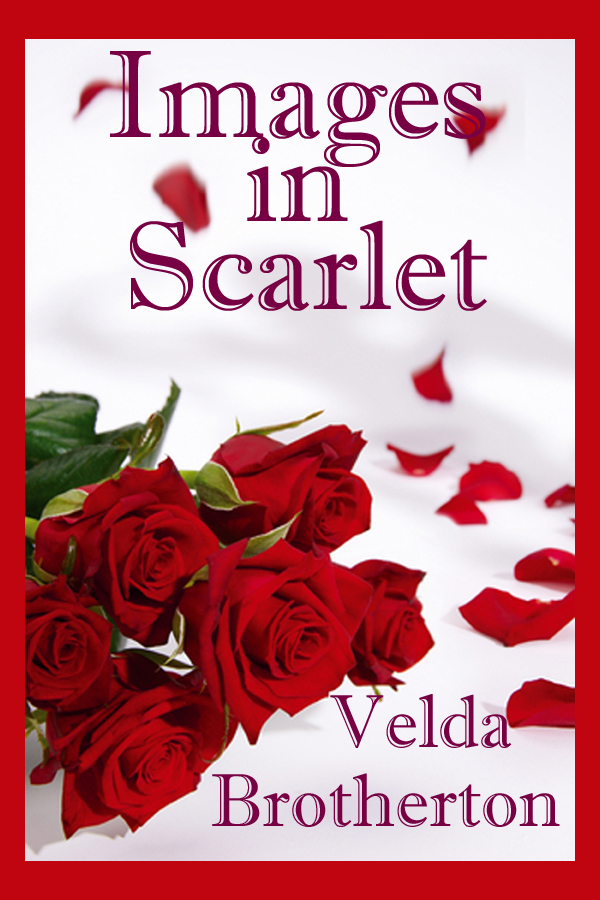 Images In Scarlet
Historical Romance, Western
The Civil War is over and her family dead, Allie Caine packs up what's left of her father's photography equipment in the "what's it" wagon and sets out for Santa Fe and a new life. Finding a man sprawled across the trail is not something she expected, but this discovery changes all her plans. Jake soon becomes a part of her life, and their adventures together bond them in a way only hardships can.
Jake left Andersonville Prison at the end of the war to wander the countryside trying to discover who he is and why he carries a photo of a beautiful woman named Lorena. He's convinced he loved her, but the wounds he sustained and the long hellish imprisonment have wiped out all memories of his former life. Even as he and Allie grow closer, he can't give up the notion that he must find the woman he loved, maybe still loves.
Cole Younger approaches Allie while Jake is away from camp and takes her off to take photos of Frank and Jesse James and the gang. Jake follows. His plans to rescue her go slightly awry when he tumbles through a window of the hideout and is tied to a chair. All Jesse wants is a photograph of himself and the gang for posterity and he pays Allie well for her services before sending her and her shamefaced hero on their way.
Allie's ex fiance joins the wagon train for two reasons. He want Allie back and will do anything to get her. He is also convinced that Jake is a man named Ethan Hollingsworth who killed his lover, Lorena before the war. A wanted poster offers a reward of $10,000 for the capture of Hollingsworth.
Allie has no interest in the man she once loved because he left her when she needed him the most. Besides, she has fallen in love with Jake and does her best to convince him that he could not kill anyone, and that he should stop his pointless search for Lorena. At one point she is willing to give up her plans and go with him, but he won't allow that and takes off on his own when his dreams and visions get so strong he can no longer deny them.
Images in Scarlet takes the reader on an exciting journey from Westport, Missouri to Santa Fe, New Mexico with two likeable, slightly flawed characters who will capture your heart and bring you laughter and tears as they struggle to find a life together.
Book Excerpt
All morning he rode far out ahead of her on the trail, but always in sight. Without consulting her, he found a suitable nooning spot, and she came upon him leaning against a tree. She wanted to ride on, not even look his way, yet she reined in the team and gratefully climbed down, as if he had cast some kind of spell on her. He grinned, but said nothing, just fetched wood and water and built a fire.
Going about her own chores, Allie couldn't help but glance his way. In spite of the limp he accomplished a lot with little effort. He was so pitifully thin that she pulled out all the stops preparing their noon meal, trying to ignore the familiar lecture running through her head.
Just like a woman to take pleasure in waiting on a man. And what had she just told herself? That she wanted nothing to do with him, that he could be on his way. But what did she do but open one of her precious jars of canned peaches brought from home. After that morning's work with the wagon wheel, he deserved a meal that would stick to his bones.
"Go ahead, Allie," she muttered to herself even as she did so. "Pick up a stray and see where it gets you."
To add to the disgust she felt, she mixed up biscuits, nested them in the Dutch oven, and piled hot coals over its cast-iron top. Then she peeled the last of the potatoes salvaged from her cellar and sliced them into sizzling grease. While that cooked she cut several thick chunks off a cured, smoked ham and spread them on top of the potatoes to heat. She decided she ought to be proud of her own foolishness, and wondered where Jake had gotten to.
He had been down at the creek for a long time, and she began to wonder if he might have fallen in when she heard him coming back, whistling "When Johnny Comes Marching Home." A Union song. She and her family had been caught up between the two sides in the war, and merely surviving had curtailed any sympathy she might have felt for either the Yankees or Johnny Reb. She had watched bushwhackers murder her mother and sister. They'd worn no uniforms at all, yet that evil war had birthed them.
The song cut off midway, and she glanced up to see him sniffing the air. 'Tell me I'm not dreaming. Is that ham and biscuits I smell?"
"You'd better like it, too."
He ignored her grumpy mood. "Oh, I'll like it. This is kind of you. I think I've died and gone to heaven." He squatted awkwardly beside the fire and gazed into the skillet of potatoes and meat.
"There's some coffee left over from breakfast. Want some red-eye gravy?" The look on his face when she asked the question was all the answer she needed. It was difficult to stay annoyed at someone so easy to please.
The Buzz
For those of us who love western historical romances, Velda Brotherton's Images in Scarlet is a book that proves difficult to put down and has you longing to get back to it. Brotherton skillfully weaves in historical characters, such as Jesse James and Clay Allison, and settings, particularly along the Santa Fe Trail, that give the book a strong sense of time and place. Allie's work as a photographer is so clearly described that you feel you might be able to develop a photographic plate right along with her. And while at times I felt like wringing Jake's neck or giving Allie a good kick up the butt as they go through the permutations of their on-again/off-again relationship, it is only because they are such engaging characters. The feisty heroine and the caring, patient hero are totally endearing, flaws and all. But it was the final surprises and twists in the plot that truly make this a five star read. ~5-Star Review, Andrea D., Goodreads

I absolutely loved the story. I could barely put it down. I finished it over a two day period of reading. In my opinion, the story is a good western with plenty of action and romance. The cover doesn't give much hint as to what the story is about. The author, known for researching historical facts for her stories, does an outstanding job of making the reader feel like you are there in the middle of each scene. I loved the attention to details of what it was like to travel west as part of a caravan.
I gave it five stars because it is such a compelling story with characters the reader can't help but have sympathy for. Danger lurks around every bend in the trail as they head west. I wanted to find out what happened in Jake's past that causes him to have blackouts. I had to keep reading to see how Allie and Jake would handle the next bit of trouble, and whether or not they would be able to stay together. I can't remember the last time I pulled so hard for two fictional characters to make things work out so they could be together. I also liked Defoe and the outlaw Clay Allison who helped find Jake after he took off on his own. All three were strong tough men. Don't let the book cover fool you. This story is for all readers with lots of suspense for the men and plenty of romance for the women. It is one of the best blends of both, I've read in a while.
As I approached the ending, I began to fear the worst for Jake's outcome. I kept telling myself the author better not let them kill Jake. I really liked the ending. This story has the kind of characters a reader continues to think about for a long time after finishing the novel. I will be reading more books by this author, for sure. ~5-Star Review, J M Davis, Goodreads
How To Purchase
Images In Scarlet can be purchased through our bookstore.
About The Author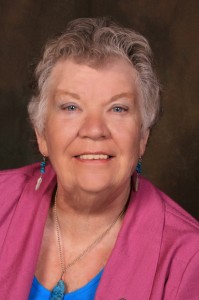 Since 1987 I've lived other people's lives more than my own. Sometimes I'm not sure if I'm one of the characters in my books or myself. As myself I live and work in the Arkansas Ozarks. I have a husband, two children, three grandchildren and two great grandchildren. My greatest accomplishment. Next comes the 20-odd books I've managed to have published.
Facebook | Twitter | Pinterest | Blog | Website