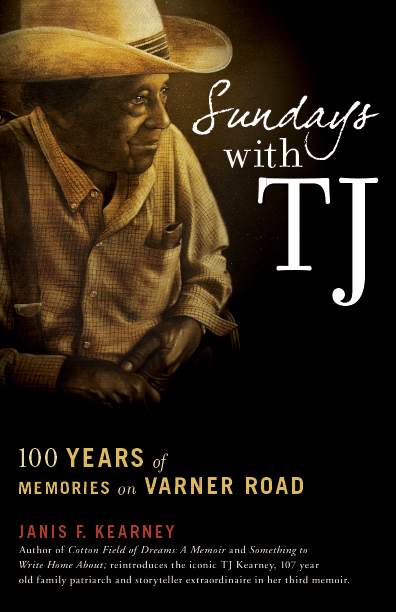 Sundays with TJ: 100 Years of Memories on Varner Road
Memoir
Trains, and boats and the Mississippi River are the things that defined young TJ Kearney of southeast Arkansas. At 107-years old, he has seen it all, and lived to tell it...and, tell it, he does. The 107-year old TJ Kearney has spent his lifetime sharing the stories of his life with family, friends and passersby who happened to stop by, on Varner Road. Born just 40 years after Lincoln's Abolition of Slavery, in the atypical southern town of Lake Village, Arkansas; TJ's life was defined by struggles, losses and miracles. The wanderer-turned family patriarch was first introduced in Janis F. Kearney's award winning memoir, "Cotton Field of Dreams," in 2004. Now, just months after he passed in 2013, the author reintroduces TJ to old and new acquaintances.
Book Excerpt
Born to Wander
Trains and rivers spelled joy and adventure for young TJ Kearney; they defined much of his childhood and, later, the young man's journey through life. More than anything else, the Mississippi River was a place of endless joy and discoveries for the slight child with endless questions about life, and sensitivities that sometimes spooked those around him.
TJ was a child deeply touched by the world around him, and by the people inside his family circle. TC and Cynthia Kearney's fourth child was born June 25, 1906. From childhood on; the one person he revered most in the world, was his father. TJ perceived Thomas Clayton Kearney as near perfect. There is little question that he loved his mother as well; but he dreamed of growing up to be just like the man he called "Papa."
His world – Chicot County – held great enjoyment and awe for young TJ, in spite of his parents' poverty, constant moves…and later, the tragedies that would touch their lives. Without the opportunity to forge lasting friendships, his brothers played an especially important role in his life. Harry would be his alter ego and closest confidante. The two boys experienced most of life sitting or standing or walking side by side.
TJ had called many addresses "home" before the pivotal age of 11. And, though as a child he was not privy to the reasoning for his parents' continuous moves, in adulthood, he would understand—the moves represented the harsh reality of being black in the south, and who his father was – a proud man who worked hard, but refused to work for men who treated him as anything less. In many ways, TJ would, indeed, grow up to be like his beloved Papa.
TJ was born on Macon Lake Road, just a few miles north of Lake Village. He was still a toddler when his parents moved from Macon Lake to Beth River. That would be the first of many moves during his young life. Throughout his life, TJ would be forever drawn by the allure of the river and the exotic river life.
Young TJ's reverence for the Mississippi River was deep, and grew deeper as he got older. At 11 years old, after his father's death, the first job TJ took would be on a steam ship that he'd often seen docked on the Mississippi river. He was already finding his way in the world.
How To Purchase
Sundays with TJ: 100 Years of Memories on Varner Road is available through our bookstore.
About the Author
Janis F Kearney, author, memoirist and oral historian is one of 19 children born to Arkansas Delta sharecroppers and cotton farmers. She graduated from the University of Arkansas at Fayetteville with a B.A. in Journalism. She worked for Civil Rights legend Daisy Gatson Bates as Managing Editor of the Arkansas State Press Newspaper before purchasing the newspaper in 1988, and becoming Publisher/Owner of the award-winning publication. She served eight years in the Clinton Administration, serving in the roles of White House Media Specialist; Communications Director –U.S. Small Business Administration, and Personal Diarist to President William Jefferson Clinton. Kearney founded Writing our World Publishing (WOW! Press) in 2001. She has published seven books, including the critically acclaimed Cotton Field of Dreams, Something to Write Home About: Memories of a Presidential Diarist, and Daisy: Between a Rock and a Hard Place. Her latest book is Sundays with TJ: 100 Years of Memories on Varner Road, which chronicles the life of her 107-year old father whose journey included years of traveling the country as a vagabond and train hopper, before settling in Lincoln County, Arkansas to raise his children in spite of dire poverty and racial obstacles of the times.